DGS 6: Foreclosure Auction Prospecting for Property Management with Kass Rose – Part 2
Learn About The Foreclosure Auction Scene Through The Eyes of a Property Manager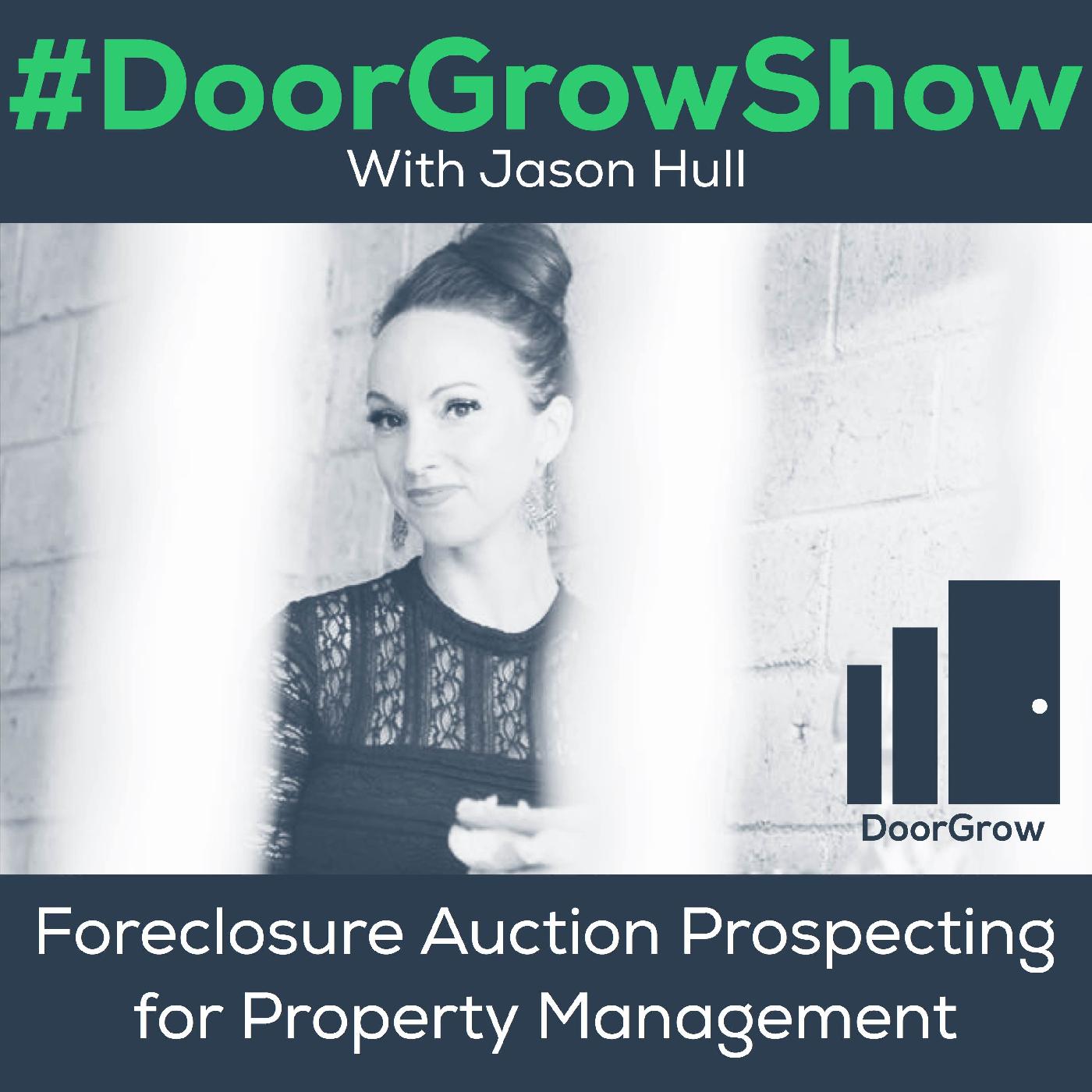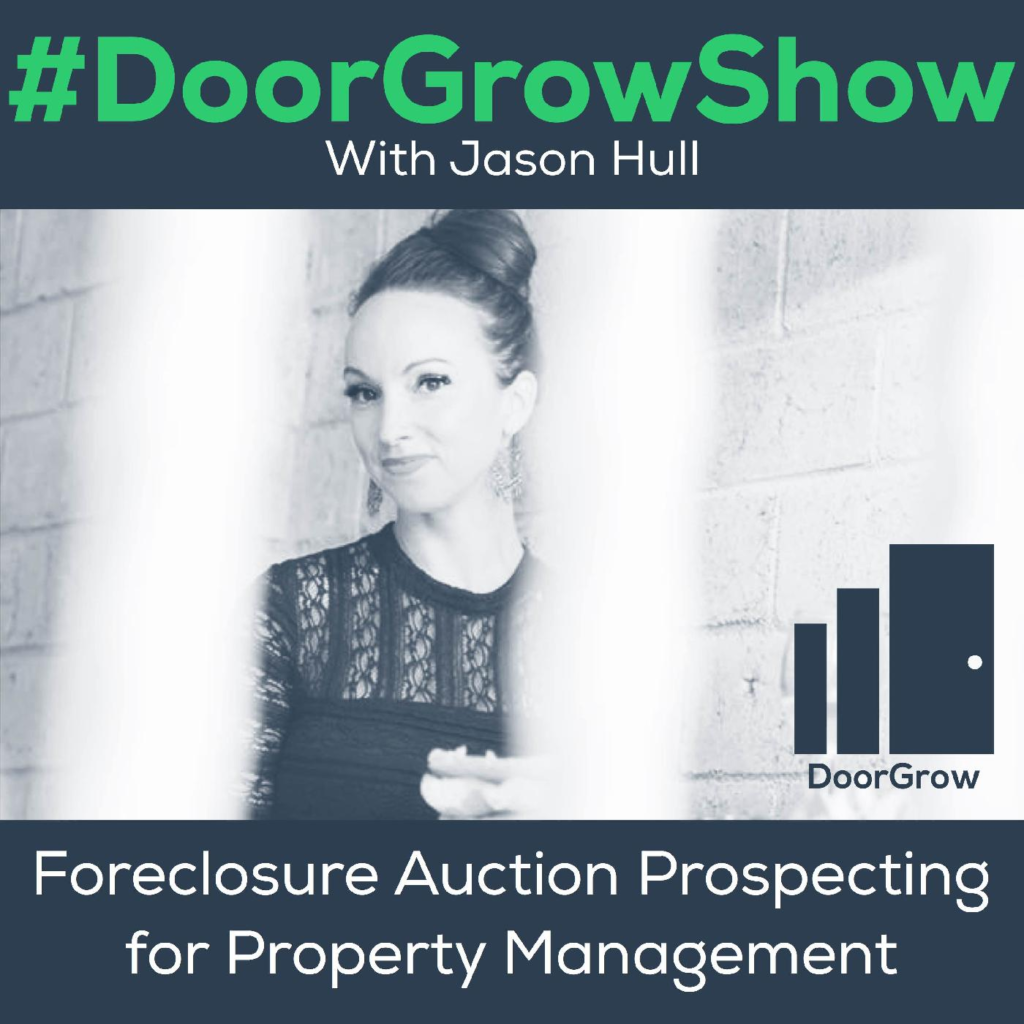 Listen to the Episode (26:46)
Join 100s of PMs & Subscribe to Updates
Learn from Kass Rose about the benefits of foreclosure auction prospecting for providing a competitive advantage in growing your property management business, without doing costly marketing. Part 2 of 2
Be sure to listen to Part 1.
Show Notes:
Tweetables:
"People who buy & sell get rich, people who buy & hold get wealthy"
"I love foreclosure investors, they look at cents and dollars, it's not emotional."
Resources:
The Foreclosure Auction Prospecting Event – This is the paid event Kass & I discuss doing in the interview showcasing her full system.
Transcript:
Jason:  Welcome! If this is your first time listening then thanks for coming. The DoorGrow Show is a podcast for residential property management entrepreneurs that are interested in growing their business and life. If that is you, be sure to subscribe and rate us in iTunes and join your fellow DoorGrow Hackers online at doorgrowclub.com, our free community for property management entrepreneurs. I'm your host Jason Hull, the founder of OpenPotion, GatherKudos, and of course, DoorGrow. Now, let's get into the show.

DoorGrow Hackers, this is episode number six. We're gonna be continuing on with Kass Rose of RentLucky Property Management in Seattle. Talking about the foreclosure auction market and how to prospect. Make sure you caught part one. This is the continuation of that where she grew her business from 0 to 300 doors roughly in about three years which is amazing. She feels that anybody else can do this too. Let's get into it.

Kass: Okay, let me tell you what the foreclosure auctions look in the Seattle area. In the Seattle area, every Friday morning, is today friday? Right now?

Jason: Yeah.

Kass:  Yeah, today, right now. Right now, all the mom and pops, all the investors, bunch of people who are buying foreclosures, are down at the King County court, right now, outdoors, in a public location bidding on properties. The first thing you can do, first thing you can do, if you don't know where the foreclosure meetings are, just find out where the public auction is taking place. That's it.

Jason: How would they find that?

Kass: How would find that, Jason? I never had to look for it. It's public knowledge. Everybody is down there. Then what happens is you're just gonna see this whole group of people. Now, keep in mind, it can be totally intimidating because this is a cutthroat industry. These guys are coming down with cash and they're trying to bid each other out of a property and it's a different type of ego. It's not the same.

Jason: They're sharks.

Kass: Oh, yeah. It's agressive.

Jason: But anyone can go, right?

Kass: Anybody can go. It's open to the public. They'll have picketers and you'll see people who's crying on the footsteps of the court house because they're losing their home. Anybody can come. I remember when we used to have really successful days and 100s, how sad is it when 200 houses get auctioned in one day? I remember looking around…

Jason: It's crazy.

Kass: Right. I look around at the foreclosure guys and I said, "Hey, you guys. What about all those families? What's gonna happen to all those families of those 200 homes?" The type of attitude you'll see is things like, "Ahh, doesn't really matter, Kass. Look at this deal."

Jason: "We're winning, who cares?"

Kass: Exactly. That's where I had a little bit of great divide with this but I played the game and I showed up anyway. What's gonna happen is when the house goes up for auction, somebody's going to get it. Somebody is going to buy it privately or it's gonna revert back to the bank and become what's called an REI, a Real Estate Investment.

Jason: The people that buy it, the people that are buying these, the investors, the majority of them are trying to turn this into a flip.

Kass: I would say most people are doing flips because they're trying to build up their cash reserves. I think it was Gary Keller from Keller Williams, in one of his books that said, "People who buy and sell get rich. People who buy and hold get wealthy." I think what you're gonna find is let's say you've got a guy who's got about $80,000 to play with, he's gonna use hard money lending, other people's money, he's gonna invest in a property, he's gonna use $80,000 to fix up that property, he's gonna put it on the market, hope that he can sell it for X amount of profit, get all his money back out.

Now, he's got $100,000 to work with. Maybe he made $20,000. A $20,000 flip will be really good in today's market, by the way. It doesn't always happen but I've seen guys make $150,000 – $200,000 on a flip because they were on a property nobody else was, or they knew something, or they knew how to fix it up. Let's say you make anywhere from $5000 to $30,000 on a flip, that would be a good healthy – well, what they're doing is they're building their reserves. Now, they've got more money.

I think a lot of investors do flips in order to build their cash reserves. The ones that are maybe a little more established, they've got more buying power, they're gonna buy and hold. They're gonna buy and hold because they're banking on appreciation. They're gonna buy and hold because they're banking on cash flow. I just started hanging out where these people hung out. In order for people to get the right information at these foreclosure auctions, they have to scrub titles. They have to make sure there's not a second on the property.

There's a lot of things that go – if it has an HOA, what if it has a rental cap, what if it has a special assessment. Let's say you have 200 properties going and only 40 of them make sense and you're only gonna have the opportunity to bid on 10 of them, and you're just hoping you get one, in order for you to do due diligence on 200 properties, most likely you're going to want to team up with foreclosure specialist of foreclosure companies. Somebody who has turned this part of it into a business.

That's where I went to work. I went to work with a bunch of guys that did all the scrubbing of the titles. Did all the due diligence so that mom and pops could make good buying decisions, without them having to do the research themselves. Now that means they're gonna have to pay a commission. They're gonna have to pay a standard 3% commission. That's how it works up here anyway.

Now where do these people hang out? Well, they hang out at the Thursday night meeting before the Friday morning auction. Every Thursday night in Seattle, in and around King County, and Pierce County, and Snohomish in Washington, there are investor groups getting together and we're talking about their properties. We're like, "The Smith property is going up in Redmond for $400,000. We think if you can fix it up you can get $600,000. The Johnson property is going in Tacoma."

What we do is we put them up on a big screen and we talk it out. People ask questions, what do you think the fix up is? Do the roof look good? What about the neighbor? Now, you got this little community group of investors and mom and pops asking questions. That's where I hang out. That's where I got all my business. I planted my butt in a seat every Thursday for the last nine years and I hung out with anywhere from 40 to 50 mom and pops and I answered all the rental questions. I got so good at it by the end, I became kind of what they call a rental rainman. When they put a property up, I shout out 24/95, 18/95, 15/95.

Jason: What are you shouting out? The rent?

Kass: Rent rates. Based on locations, square footage, and their fix up assuming that they're gonna fix it up the way that they're telling them to do it. They should get a fair market value of x and if you do that, you should also get a rent range of approximately x. That's what I do. I sit in those and then all of a sudden people start – a lot of the flippers, started going, "Oh, I never even thought of being a landlord. Wait, this gal knows the rent rates. She knows the laws. She can do the paperwork. She can market for the clients. Oh, maybe I will buy that property as a flip and I'll go buy that one as a whole."

Jason: Here's the opportunity. There's lots of people going there hoping to get a property at low enough dollar amount at auction so that they can turn around and flip it. They need margin. The problem is the house flipping market is so saturated now like everybody is talking about flipping. The properties are getting bid to the point where there is no margin anymore. But if you can turn it into a rental, you can…

Kass: You can bid higher.

Jason: You can bid higher and still make money.

Kass: Yeah, because you're banking on appreciation. You're gonna hold it for 5 years, 10 years, 20 years.

Jason: You can outbid the flippers, they're gonna look at you like, "Who is this guy?"

Kass: Yeah. They're not gonna like you but that's okay.

Jason: They're gonna hate you. You're putting the flipper who's out of a property but you're turning this into a great investment long term as a rental property.

Kass: Exactly.

Jason: They need a property manager because there is no way in hell they wanna manage a rental.

Kass: No because they work at Boeing and Microsoft. They've got day jobs and they were dabbling in this real estate investment thing hoping to get some experience and some money, but they don't wanna be a landlord. You go in with the value add and say, "I got you. I'm gonna take care of this side of it for you. I'm gonna compliment what you're doing."

Jason: A lot of property managers will do the remake, and remodel, or handle that stuff too, for them. A lot of property manager that I've talked to are like, "Yeah, we do remakes, remodels, rent-ready, all of the stuff."

Kass: Yeah.

Jason: The property managers can take all of that off their – and then they feel like they going into this property and buying it they have the safety net which is you, the property manager. Get the property ready, make sure it's enabled, that way it can be rented.

Kass: The foreclosure companies, the good ones, because we can talk about that when we do the webinar, the good, the bad, and the ugly guys, make sure you put that in there.

Jason: Alright. I'm putting them here. The good, the bad, and ugly.

Kass: The good, the bad, and ugly. Good, bad, and the nasty.

Jason: You're talking about the reps…

Kass: Yeah.

Jason: Or the hard money-lender, or just agents?

Kass: Yeah. Just be careful who you're doing business with. Be careful with who you're associating your name with. You associate with the wrong guys who don't have your back, they can tarnish your image just as easily. We wanna do this for good opportunity but we don't wanna get in.

I worked at a car dealership once.  I have left a car dealership in California, moved to Washington, I called my old boss, and I said, "I don't feel right about this company. They're treating people really poorly. It makes me feel icky. This industry is already icky, it makes me feel worse." He said, "Kassandra, you lay with the dogs, you're gonna get fleas." I will never forget that because you gotta be careful of who you get in bed with.

You gotta be careful who you're doing business with because one, it can suck the life out of you. They'll use you up, and tear you up, and use all your resources, and never do any co-marketing with you, and could care less if you actually succeed. When we do the webinar, we'll get into how to really position yourselves so that you don't get taken advantage of.

But there are good guys out there. Guys and gals. There are good companies out there that you can be associated with. Let's talk about this, now, every single Thursday, I sit in a room for about three hours which is my marketing investment. Remember the 300 houses that I did in under three years, by the way, that's just under management. What I didn't tell you is that in that nine years, I closed over 3000 single-family homes as lease subs.

It wasn't until three years ago that I went, "Oh, residual income. I should start my own company. Could you imagine if I did that nine years ago? I leased up 3000 homes. My list should be so big. I just was burning the candle at both hands trying to make a name for myself that I didn't stop and slow down long enough to actually build up…

Jason: Let's play this what if game. If you knew this idea of dealing with auctions, foreclosures, and have started doing this as your own business, how many doors do you think you'd have now?

Kass: I'd have way over 1000. I'd have over 1500. I'd have more. You know what I would have? I would have, back then, I don't think there was iPads, and there weren't landing pages, I would have – we'll get into this in the webinar as well, I would have a landing page and I would pass the iPad around the room and just have them quietly input their name, email, and contact information.

I would build my list every Thursday night. You pick up 50 new names every Thursday night and don't forget about this, those mom and pops who work at Microsoft, and work at Amazon. I'm in Seattle. They have friends, they have co-workers, they have a dad who has 10 properties. Now, what you're doing is you've earned their trust by being an expert in this one field. You're talking a new language that makes them feel empowered, and then they'll start to call people and start going, "Oh, you oughta use this gal."

Jason: You gotta talk to Badass Kass.

Kass: Exactly.

Jason: "She's got this great idea. We're thinking of flipping and we can't get any properties at a price that makes sense, she's got a different idea. I think this is where we should put our money."

Kass: Yeah.

Jason: Alright. Cool. We'll get into some of this stuff when we do the actual webinar for this. We'll set a date for that, put it out there, but here are the people that you had mentioned at auctions, people know the scene a little bit. You mentioned there's foreclosure auction reps, there's hard money lenders, there's traditional agents, like real estate agents just hanging out, and then there's buy and hold landlords which are the investors, they want property management, and then there's the flippers which, ultimately, your goal would be to convert them into buy and hold landlords. "Hey, guys, let me teach you a different way."

Kass: Yup. Exactly.

Jason: Then, ultimately, if you can create relationships with auction reps, they're going to love you because you're helping them close more deals.

Kass: You help them close more deals. We're all gonna make more money together.

Jason: The hard money lender, they're going to…

Kass: They close more deals. The more houses people are buying with their money.

Jason: They get more deals. Then the traditional agents, you're helping out their investors.

Kass: Oh, let's also add traditional loan officers because they're refinancing everybody out of the hard money. Because they want long term loans.

Jason: Yeah. They're paying because they want long term loans.

Kass: Which is awesome because they also have investors with large portfolios of rentals, hopefully. Because the type of loan officers that hang out at these auctions or these Thursday night meetings like we do in Seattle. They have to understand hard money. They have to be creative on their financing because there's lending laws around how this all works. They end up with a huge portfolio of more buy and hold type of investors.

Jason: Cool. Basically, this will allow you to grow your business and in any market, any market where there are auctions, city market where there's properties, do you think it would be realistic for property manager to close 10 deals a month?

Kass: Oh, I should hope so. Yeah, absolutely. Don't be afraid of lease up. I'd like to talk about but in the webinar as well. We're property managers but hey, I'll take first month's rent. If you wanna manage it yourself and you think you got it all figured out, I'll still find you the best tenant in town and I'll lease it up.

Jason: Yeah. Lease only. That's the gateway drug to get full management clients. That's how they test the waters with you.

Kass: Yeah. When they get to that breaking point, "Ah, I got too many properties." They're like, "You know what I'm just gonna go ahead and give you my cold portfolio." Like I said, I've done well over 3000 just lease ups alone. Because of these guys.

Jason: That's a great way to get your business started. Absolutely. Well, we're not gonna talk about today all the tips, and mistakes, and lessons that you learned, because like you mentioned, there's a lot of sharks in that water, and it can be pretty bloody, you made some mistakes that you learned from, they'll get that knowledge from you.

The biggest question of people are like, "How do I get started with this?" We'll get into that. They could find that auction, just show up, but they would feel probably pretty awkward not knowing what's going on. We will explain the process so they can ease themselves into this, so that they can figure out the game, get familiar with the players that are there.

Kass: Or speak to the language so that they feel confident because you don't need to go there to get bullied. You need to go there to be a benefit. We'll set up to be an expert. We'll set up to be able to walk in with confidence.

Jason: Right. I'm gonna put how to position as an expert. Cool. This would be some good stuff.

Kass: I think this could be three-five series. This isn't even a one-hour job, Jason.

Jason: Okay. We'll figure that out ourselves. We'll plan a date that's far enough in the future that we can get some people to it. I think it'll be awesome. Stay tuned and we will be putting together something with Badass Kass on how to have badass growth in your property management business to one idea.

Kass: There you go.

Jason: This is just one idea but for a lot of property managers, this is a game-changing idea.

Kass: Let me also tell you, I'm one of those people who have never marketed. This is the only way that I've built my business.

Jason: Do you do pay-per-click right now?

Kass: Nope.

Jason: Are you paying SEO companies?

Kass: Nope.

Jason: Have you done local SEO?

Kass: Nope.

Jason: Have you been blogging a whole lot?

Kass: No.

Jason: Lot of people starting out, they do start doing this stuff. But then they realize it's a bad idea to start by doing those things because that's really expensive.

Kass: I'm starting to do those things and organically now.

Jason: Because you're at the stage now that it makes sense.

Kass: Yeah.

Jason: You have the cash flow that it makes sense to do that whereas people starting 0-100 doors.

Kass: They just need to get some deals. They need to get some deals under their belt and they need to pay their bills. That's what I did.

Jason: Exactly. They don't have the luxury of spending that kind of money for marketing. Not only that, but internet marketing, the leads you get through internet marketing, the close rate on those are always gonna be like 50% less in your close rate. Usually, the close rate on word-of-mouth or solid prospecting, you're gonna be at the upper ends, word-of-mouth 70% or higher on your close rate. It's usually a slam dunk. You just don't screw it up.

Whereas you shift to internet marketing based leads, they don't know you from Adam, it's cold conversation initially, the close rates' gonna be at least 30% or lower, maybe 10% or lower, depending on how effective they are at sales. Most property managers, not good at sales. They don't have a system. They don't have a process. They don't realize this until they get to about 200-400 doors.

They start to try to do leads or internet-based leads or something else. They then blame the leads because they're like, "Oh, the leads are terrible." Why? Because they're comparing it to word-of-mouth. Word-of-mouth, we didn't even have to sell. We just got signature.

Kass: Right. I have to tell you that I've tried some lead sources and I think it was because of my auto-dealership days where as a finance manager, the sales person took the test drive, sold the car, and just handed me a deal, that's how I feel if I'm working with the foreclosure groups.

Jason: Exactly.

Kass: They do the sales.

Jason: Almost the same as word-of-mouth.

Kass: They find the investors. They're attracting the investors. They're paying all the money for the marketing and hosting the event every Thursday night. They've got the building. They've got all that.

Jason: And they're pointing at Badass Kass.

Kass: I just show up and I'm just there to help.

Jason: Yeah. They just point at you and they're like, "Yeah, Badass Kass knows this stuff, ask her." You're there as an expert. You've got a line of people coming to ask you questions because you have these relationships that you've developed.

Kass: I have to tell you another thing. I love investors. I love foreclosure investors. They look at cents and dollars. It's not emotional. They didn't live in the home. This isn't a landlord who's like, "Oh but this is my baby." Those people are way harder to manage. I like investors. They're like, "So you're gonna do what, when, how? Alright, rock and roll. Send me a contract." They're non-emotional.

Jason: Yeah. They're like, "Okay, sign it."

Kass: Just do the deal. Those are my kind of people.

Jason: Yeah. This could be really awesome. Kass has all kinds of really cool stuff that we'll probably be talking about in the future, coming up. You can connect with her at where? How will people connect with you?

Kass: I think the best way to find me is you can find me on my personal Facebook page which is Kass Rose. Rent My Way is my second startup that I'm starting right now. It's actually a national program to help landlords, property managers, renters get through the landlording ecosystem and process in a smoother way.

When I hang out with you, I'm actually heading down to meet with my business advisors and we're raining $1 million in the next 30 days. I'm really excited about that because of this brick and mortar company that I started here locally, it's called rentlucky.com, at RentLucky, I have been able to build $1 million property management business that has funded my big idea.

My big idea is Rent My Way and we're getting $1 million in funding for that in the next 30 days. There's gonna be a lot of cool stuff coming out. I'm really excited.

Jason: I'm excited for you.

Kass: Honestly, it all happened because of my foreclosure relationships. I wouldn't be here today if I hadn't showed up at those auctions and built those relationships.

Jason: Cool. Really cool stuff. We'll end on that note. If you are new to the DoorGrow Show or you haven't seen any of our interviews yet, go to doorgrow.com and check us out. We are badass for helping property managers build up their business. Anything that you need from marketing, coaching, whatever, the only thing I don't teach you how to do is how to manage a property. Everything else, if you wanna win, we're the people to talk to.

Kass: Right.

Jason: Cool. Alright, thanks Kass, I appreciate you as always.

Kass: I love what you're doing.

Jason: I'm gonna end the recording.

I hope you got some really good insight from Kass, listening to her and how she grew her business. It's a very unique method. I've spoken to hundreds of property managers and I have never heard of anybody doing this. We did an event together after that interview and it's like 90 minutes of fantastic content. We answered any questions, we have mapped this thing out really in detail, her whole system for growing. If you want access to that, it is a paid thing but you can get access to it by reaching out to us at DoorGrow or checking out the show notes for this episode. I'll link to it. It is also included in our seed package in the membership site that comes with that, you may want to look into that. That's it.