DGS 13: Snapchat for Property Management Entrepreneurs with Salvatore Friscia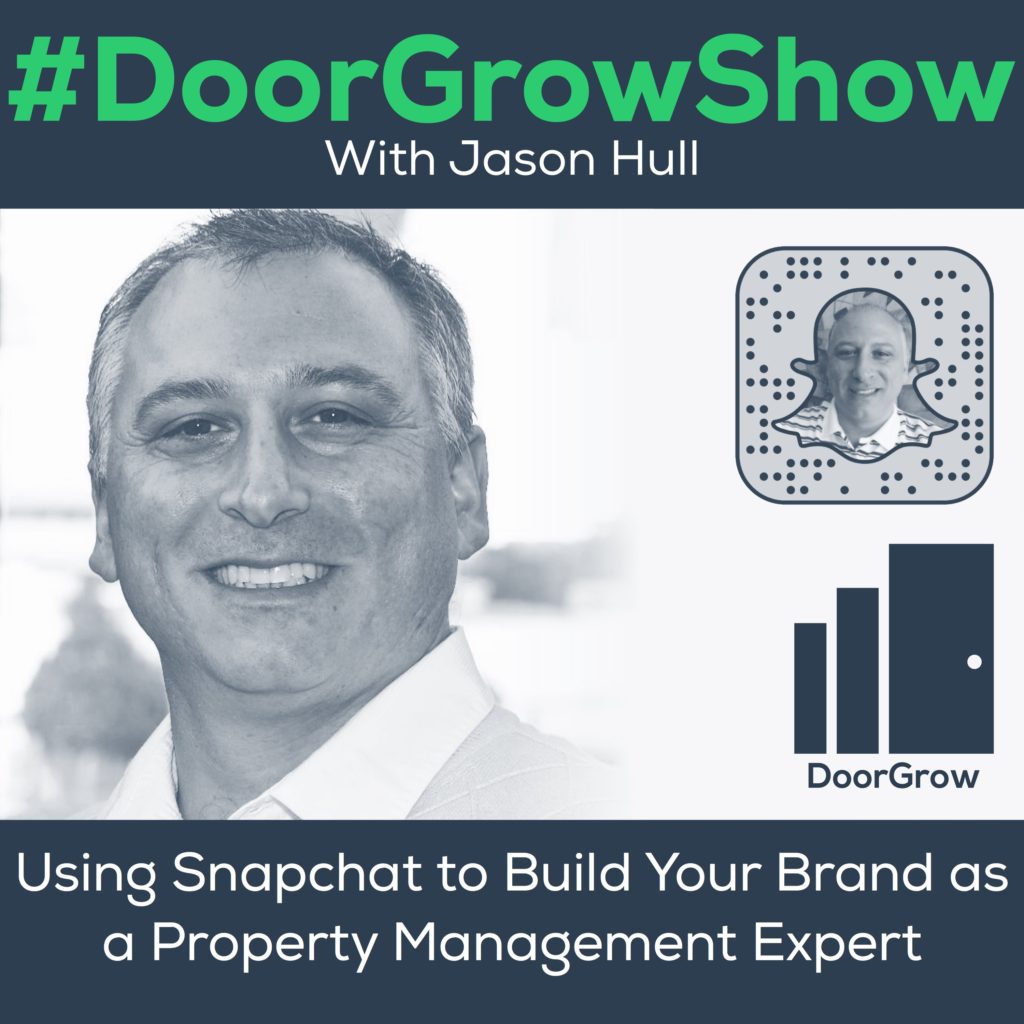 Listen to the Episode (29:37)
Join 100s of PMs & Subscribe to Updates
Get notices directly in your inbox
Learn from San Diego real estate & property management expert about Snapchat
Learn from Salvatore Friscia about Snapchat and the benefits of branding yourself an expert & creating a personal image that is real and approachable.
You'll Learn…
Tweetables
"In property management, we're typically slower to catch on to trends than some of the other industries"
"The winning recipe is to have multiple social channels that all push people towards your favorite channel that leverages video."
"Snapchat is an opportunity for you to bring reality to the property management industry and create trust"
"You can fake things on Instagram, but Snapchat is real."
Resources
Salvatore's Company: http://SDPmanagement.com
Snapchat: http://www.snapchat.com/
#DoorGrowClub http://doorgrowclub.com
Transcript
Jason: Welcome! If this is your first time listening, then thanks for coming. The DoorGrow Show is a podcast for residential property management entrepreneurs that are interested in growing their business and life. If that is you, be sure to subscribe and rate us in iTunes and join your fellow DoorGrow Hackers online at doorgrowclub.com, our free community for property management entrepreneurs. I'm your host, Jason Hull, the founder of OpenPotion, GatherKudos, and of course, DoorGrow. Now, let's get into the show.

This is episode number 13 of the DoorGrow Show. In today's episode we're going to be talking with Salvatore Friscia. Salvatore Friscia, he's a real estate entrepreneur and owner of two San Diego based residential real estate companies at San Diego Premier Property Management, and Tenant Finder. And he is a widely considered a residential property management expert. He's consistently sought out for his expertise in the San Diego market, he's an Amazon best-selling author, he's been featured on CNBC News Forbes, The Wall Street Journal, and many other prominent social media outlets.

Today, he's joining us to talk about Snapchat. Tune in. I think you'll get some great value out of this even if you're not into that particular social platform. There are some great take aways that are applicable to however you want to show up on social media. I hope you enjoy it. Let's get into it.

We are live. I've got Salvatore, we had a little bit of technical difficulties but Salvatore, it's great to see you face to face.

Salvatore: Absolutely! Great to see you as well. I appreciate you having me on.

Jason: The pleasure is mine. To give a little background, I saw you mentioned on a Zillow article, and it was about real estate and leveraging Snapchat.

Salvatore: Absolutely.

Jason: I was surprised. I saw that your name had property management associated with it there. None of the others did. I was keenly interested because I target that niche and want to showcase this to entrepreneurs and I haven't heard of any of my clients using Snapchat.

Salvatore: Absolutely. Jason, we're the first property management company in San Diego to use Snapchat, and I say that proudly. Having a real estate entrepreneurial background, for me, it was important to always try and find new and innovative ways to market for my clients. When I stumbled upon Snapchat, probably less than six months ago, I knew immediately that it had lasting power and it had the type of marketing potential that we wanted to use. It was a no-brainer for me to get on board.

Jason: That's really surprising to me because a lot of people, when they first hear Snapchat , or associate with business, they're surprised. Because a lot of people's minds, they equate Snapchat with teenagers sexting each other.

Salvatore: Absolutely, absolutely. That's the way it was. Just like most social media platforms, they go through some type of cycle where initially, it's for younger people to communicate in their own way, and then it takes on, it works in some more of a business style platform, and that's what's happened with Snapchat. Snapchat has evolved to where anybody over the age of 30, they did not know what it was up until maybe 6 months ago. But now, they're seeing that it has potential for marketing, and it all of a sudden makes sense.

In our industry, in the real estate and property management industry, we're typically slower to catch onto trends than maybe some of the other industries. But as I mentioned earlier, when I took note of it, I saw Gary V. talking about it, some other entrepreneurs who were using incredible ways, I knew immediately that it was something we wanted to get on board. We have a lot of sayings around our office. We're not your father's property management company. We like to be innovative, we like to do things forward thinking. For me, it was a no-brainer and definitely something that we've utilized and benefitted from.

Jason: Gary Vaynerchuk, he puts out a lot of Snapchat related content. He is now an investor in it, he promotes it heavily. I've heard him mention it as well. He feels it's the next attention space. Maybe you could explain what Snapchat is. People don't get it and I signed up for it, I had a really hard time at first figuring it out.

Salvatore: Absolutely.

Jason:  It was confusing. I think if people have the bird's eye view of what it is, it makes a lot more sense. What is it and why would anybody want to be on it?

Salvatore: I just want to premise this by saying I'm no means a Snapchat expert or social media marketing expert, but I have leveraged Snapchat to benefit me in terms of my business. Just to go into what Snapchat is, it's a video based social media platform that allows an individual to use 10 second video snippets, and in chronological order, tie them together into what's called the Snap Story which lasts for 24 hours, unless it's downloaded by the individual and saved, and then it disappears. You've got 10 second video snippets that tie together to make your pitch, to present your brand, to show whoever's following why they should be following or what you want to send them to in terms of your marketing strategy.

It's perfect for today's short term focus time frame of 10 seconds. Most people will know within 10 seconds whether they want to continue to watch or whether they want to move on, and that's perfect for today's marketing society.

Jason: Yeah. I heard Snapchat described by a friend as basically it's your own personal little reality show.

Salvatore: Absolutely. I think that's a great explanation of it. Absolutely. From what we do, is we try and make it fun.

Now let's be realistic here, property management real estate can sometimes be very dry. We have to lighten up. We try and make it fun. What we do, we just want to shoot out there all of our properties, we're not trying to sell, sell, sell in the terms of traditional sales but we're trying to sell in the form of letting people know who we are because honestly, people will only buy from you and do business with you if they like you, and they only like you if they know who you are and they'll only know who you are, if you're out there, if you're presenting your brand out to the public. We try and make it as fun and as exciting and quirky using all of the different emojis, using all of the geofilters, and using music backgrounds to make it as enticing as property management real estate can be.

Jason: If somebody were getting started with Snapchat, and there are so many other social platforms, there's Facebook, there's LinkedIn. Where are property management companies target audience actually hanging out from your experience, where are they?

Salvatore: From my experience, we have a great showing on all the major three social media networks. Your Facebook, your Twitter, and your Instagram. We push contents to all those platforms. But we are now asking all those platforms, we're pushing people to our Snapchat story because we believe in the power of video.

Facebook Live has come on board and that's been very powerful. But other than that, video is definitely better for us in terms of just text or imagery. We're pushing all of our other social media platforms, all of our followers to our Snapchat stories.

As far as where property managers were going to find their clients, honestly, I don't have any answer to that. I'm not sure that a lot of people do. But what I'm a big believer of, is getting content out. If you get enough quality content out, people will find out you. Instead of hunting people down in all different places, which maybe something that's difficult to do, getting quality content out there and then being able to move those people who are following that content to your ultimate social media platform that you like to have them on, that to me is a winning recipe.

Jason: Right. Snapchat, the 24 hour thing, I want to point out to people following this or watching or listening that they say that this is much more psychologically the way we communicate in real life. I'll say something to you, and 24 hours later you probably won't remember exactly what I said, it goes away. Whereas all other social media sits there forever, which is very different. You have access to it, it's available, but then it goes away and it's changing constantly because it goes away after 24 hours. You have to keep adding new stuff and the lifespan of each of these new items is 24 hours.

Salvatore: That is correct. I hear what you're saying, for me personally, being the owner of two companies here in San Diego, for me my business life and my personal life, they run congruently. For me to do what they call Snapping, to snap my business day and my personal life as I go through my day is not much of a chore, and it allows people to stay interested to go past that 24 hour period because as you mentioned, all that content is new and is refreshing and most likely it's all interconnected.

For instance you mentioned on there whether you're putting a picture on Instagram. You may put a picture on Instagram and then your next picture may has absolutely nothing to do with the previous picture, and there's a loss of connectivity there.

But with Snapchat, as we mentioned that potential to have the reality TV portion to it, that connectivity, you're bringing people along for the ride, they're learning who you are, what you do, and they're learning not only just [inaudible [00:10:50]. I like to say, "Follow me around San Diego. I offer real estate tips and advice through my journey in San Diego." I'm bringing people with me and they are seeing what we do in our back office, they're seeing what we do with our clientele, they're seeing what we do all the way around our business and then into my personal life as well. It's compelling in that aspect.

Jason: What feedback have you gone from people that are following you on Snapchat or see this openness, this transparency that you're putting out there? How do they perceive you differently than maybe other people are perceiving property managers that try to maintain this really segregated image of business versus play?

Salvatore: Jason, that's a great question. Here's how I can answer that, they see that you're real. They can relate to you. I think in today's society, a business owner or an entrepreneur is really taking on the face of their brand, and people want to relate to that individual, they want to see where you shop, where you dine, where you go to vacation, how you handle business in your business setting, just like if they were a fly on the wall per se.

When you have that openness, people will be more inclined to engage with you in that content. As I mentioned earlier, we have thousands of people throughout our other social media platforms, whether it be Facebook, Instagram, or Twitter. But the level of engagement is so much smaller and not as genuine as the level of engagement with Snapchat. Just from the very start, our Snapchat profile is definitely the smallest of all of our social media platforms. But the level of engagement is by far the most genuine and the highest that we've received.

Jason: Great question then is how are you managing all of this social media? That sounds like it would take an incredible amount of time. You've got Snapchat, Facebook, Instagram, all these others, how have you made this simple as a property manager? Because I imagine you do work. You have lots of stuff you're doing.

Salvatore: I do work, absolutely. I have automated some of the other social media platforms. But with Snapchat, as I mentioned to you, it's become something where in the beginning, yes, there's a little bit of a learning curve, you've got a kind of watch somebody, other people who are doing incredible things on that platform, see how they're progressing. Most of them, I've noticed, they have a plan, they have some type of format, and they have made it so that you know what to expect at certain times during the day.

For me personally, as I go through my day Snapping, it is not an inconvenience, it is not something that I have to do in addition to my day because I become so comfortable Snapping wherever I am, whoever I'm with, in conversation, whether that be business or personal, at the grocery store, or whether I'm meeting a new client. It's become second nature and it's something to where it's not an addition to but it's just part of what I'm doing. It's really not that time intensive, if you would.

Jason: You're saying Snapchat's just become something second nature to you. You've got your phone out, you hit a snap, maybe you take a quick photo or you do a video, "I'm here with so and so." "Oh, I'm going to look at a property." Whatever you're doing.

Salvatore: You've nailed it. That's exactly what it's become. Absolutely. In the beginning, I had some reservations on doing that, you feel a little, "Am I going to be intrusive? Is this appropriate in a sense?" But believe me, when you start doing it, when you're comfortable with it, people are interested. They want to know what are you doing, where is that going, that's interesting. They want to learn about it.

I had a meeting with a gentleman the other day who owns a website company. He was not in the know about Snapchat which was puzzling to me because to me that was something that would be forefront in today's social media marketplace to definitely be aware of that. After about an hour conversation over lunch, we were reconnecting with somebody in my network, he was really intrigued about the power of Snapchat. And he, like me believes that there's definitely some lasting power, and something that can be used in anyone's business regardless if it is property management or not.

Jason: Yeah. I'm going to Snap you right now. Are ready? Give me a good smile.

Salvatore: Big smile.

Jason: I got to look at it. I'm going to do it one more time here. I'm looking at the camera. Alright, cool. Here is my Snap.

Salvatore: I love it.

Jason: I'm kind of cut off.

Salvatore: We've had about 20, 30 Snaps here since we've been doing our interview. I've had somebody else who has my phone, my wife has my phone, I'm at my home office right now. She is circling our interview and she's taking snaps and we're broadcasting that out to our followers. I've been secretly Snapping you as well.

Jason: Cool, sounds good. You're showcasing your day, the things that you're doing. Do you have kids?

Salvatore: I do. I have four beautiful children.

Jason: Hey, I have four kids too. You're probably showcasing stuff, activities with the kids and other things, like you have a real life?

Salvatore: Absolutely.

Jason: You're bringing reality to property management is really what you're doing. I think that says a lot, that you're willing to be transparent creates a huge safety zone for people who are looking at you to do business. Like, "Oh, he is comfortable. Just putting himself out there. There are no secrets, he's not trying to game us, manipulate us."

I've noticed that also, I put my Snaps out there but I don't have a following yet like you do. How do you get the followers? Is this where you use the other social media?

Salvatore: Yes. You can use other social media, which I recommend. For instance, on my Instagram page, I have a one-click link where somebody can go ahead and follow me on Snapchat. A lot of my Instagram posts now are Snapchat related. Once again, I go back to the fact that I'm trying to use those other social media platforms to bring on new followers to Snapchat because as I mentioned, I have a strong belief that that'll be something that will have lasting power.

Also there are third-party apps such as Ghost Codes, where you can upload yourself and put yourself into a category. For instance, I'm in the real estate category and somebody can go on Ghost Codes, they can find me there, they can see a little bit about my bio, and what I'm doing, they can give me a kudos and download my Snapchat code right from there and be following me instantly. Those quotes syndicating your Snapcode out on other social media platforms is definitely a way to get more followers. And it's something that I've utilized, I leverage, that I found has worked really well.

As a matter of fact, it's the reason why you and I are having this interview, is putting out content, letting people know what you are doing with Snapchat, how you've benefited by using it and how they could benefit as well. I've had articles myself that I published on LinkedIn, I've had articles on my blog that I put out there, and you mentioned earlier I was featured in Zillow as well as NARPM Pick Me Up in terms of featuring me for what I'm doing with property management and Snapchat. All of those combined had helped me grow my following on the platform.

Jason: Fantastic. Do you find that your engagement is more with owners or tenants on Snapchat? Who's really following you?

Salvatore: That's a great question. I'm having a great mix of all of different people. For instance, we've received business from local real estate agents who found us Snapping on Snapchat and have sent over business, we've received referrals from out of state real estate agents the same way. We're receiving inquiries from people who are interested in properties that we're showcasing. It runs the gamut from receiving business from the traditional real estate agents sending over referrals, as well as people interested in the properties. I can't complain. I think it's a great mixture of the two.

Jason: There's probably a lot of people out there that are like, "Man, how could I be featured on Zillow? That would really make me look good." Or, "How can I be featured on different sites?" How did that happen and how would you recommend people go about doing that?

Salvatore: I go back to writing content, getting content out there, branding yourself, letting people know what you're doing and being excited about it. In our industry, property management, I met an Amazon Bestseller author, Jason, and I wrote back in 2011 in a book that most people who own property management companies, they are considered the ugly cousin of real estate. I hate to use that analogy but it's true. They're not forward thinking, it's not exciting.

We bring a lot of excitement to property management. We let people know what we do, and we do it in a fun way. I think by setting that image out there, by talking about it, by putting content out there, we were recognized and we are fortunate for it because it allows us just to continue syndicate our message.

Jason: Yeah. You're obviously comfortable talking on camera, you're comfortable talking with people, and you feel like doing the Snapchat stuff have gotten you to this point. I talked to a lot of property managers, they try and put out video content, they look incredibly awkward, they feel like they're trying to something or be something, but if you talk to them face to face, it's a different universe.

Salvatore: Absolutely. I agree with that. I have noticed that myself and my advice to the property manager out there is just be yourself, let that personality shine through. It's not property management all the time. You've got to let people know who you are, they've got to like you before they want to work with you, and they've got to know you in a sense to want to work with you. Be yourself, be genuine.

But one thing I really like about Snapchat, Jason, you cannot fake Snaps. You can take a picture next to a Ferrari and a $3 million house on Instagram, but you can't do that on Snapchat if that's not really the lifestyle you're living. People will recognize that and that's not cool. If you're just yourself and if you send your message in a way that resonates with people, you're definitely going to have a positive experience on the platform.

Jason: Yeah. I've heard people describe Instagram as life porn. It's not real life. It's just the prettiest, shiniest pieces of it. But Snapchat's reality. Reality really is what creates trust and what sells.

Salvatore: Absolutely. And more importantly, I think unfortunately in our industry, a lot of people know what social media marketing is. They just don't know how to use it properly. I mentioned to a lot of people all the time, every time you put out a piece of content, it has to have a purpose. That purpose needs to either send somebody to a landing page, send somebody to your website, to a blog article. There has to be a purpose behind it. If you're putting up a pretty picture and it has no purpose, you're truly wasting your time. Whatever you're going to do, whether it's Snapchat or any other social media sites, definitely have a purpose behind it, have a reason for using that time, those resources, and allow it to benefit you and your company and your brand.

Jason: You don't have a different purpose or call to action on almost every Snap video that you do. You probably have one or two that are your go to's then, I would imagine.

Salvatore: That's correct. I have my story, I'm not always selling in the sense of what most people would think of a real estate agent or a property manager does in terms of selling. But I tie all my stories all together and what would you offer tips and advice, you better believe I mention our company, you better believe I advise them where they can get worry-free property management in San Diego, and you better believe that I'm the person who's telling them that we can do the best job for them because I truly believe it, I hope that shows up in the video content through Snapchat and I back it up with giving my expertise.

It all ties together and it comes back around to what I'm ultimately trying to do and that is to build my business, there's no secret behind that. I'm just doing it in a way that makes sense in today's marketplace.

Jason: Where can people find worry-free property management in San Diego?

Salvatore: scpmanagement.com. San Diego Premier Property Management, we're Better Business Bureau A+ accredited. We were just mentioned in the San Diego Business Journal as one of the top property management companies in San Diego, we're family owned and operated, been in business for 14 years and we're proud of it.

Jason: Cool. I would recommend that if you're looking to get started in doing video content, putting out content, because video increases conversions dramatically. It's proven, people love video, it's real, you can be real. Snapchat, it sounds like a really safe place to start. Worst case scenario, you've looked bad for 24 hours, at most. It goes away.

Salvatore: It's self-editing. There's always a take two. No one's perfect. You can take two if you mess it up, you do it again. But you gotta start somewhere and Snapchat is a great place to start and then you can utilize that if you feel comfortable enough and you can go onto different things, but absolutely, I agree with you, Snapchat is a great place to start getting your image and your brand out there.

Jason: Fantastic. Salvatore, I really appreciate you coming on. This has really been insightful and I think a lot of property managers could really benefit from adding that level of transparency and trust. Because that's really a great way to differentiate themselves from their competitors that hide behind fake stuff photography on their website, that hide behind fluff about us pages that have generic company bios about how long they've been in business.

People really are all about people, and at the end of the day, it's people that sell, and obviously, Salvatore is a person that is open, that you can resonate with and that you can trust with your property, and you put that out there it sounds like very well. I appreciate you coming on.

Salvatore: I appreciate it.

Jason: Any last plugs you want to do or any place you want to send people?

Salvatore: We have another company called tenantfinder.com where we service people who just need a tenant. In the San Diego area, we're getting ready to roll it out in Phoenix as well as in the Las Vegas area but tenantfinder.com is definitely a place I would send people who don't need full management but are just looking for a qualified tenant.

Jason:  Great domain name. Salvatore, I appreciate you coming on. If anybody is watching this or you are interested in getting the best property management websites out there, I recommend you check out doorgrow.com, I also recommend that Salvatore, you may want to make sure you are a member of the DoorGrow Club. It's doorgrowclub.com, it's become a really cool place for property managers to hangout. We found that we had really low engagement on social media like Facebook groups were terrible for property managers. We had some groups that had been around for years and they had 60 members, and nobody was communicating and Facebook has too many ads, too much going on, so engagement was really poor.

LinkedIn groups are even worse. I've seen the NARPM group has 11,000, 12,000 members but there was no engagement, it was just people posting their own stuff and nobody was responding. We found engagement really poor so we created DoorGrow Club and people can get in there and property managers are posting stuff, vendors are in there, property management vendors posting stuff, they're sharing, people are asking questions, we got new property managers asking questions. It's become a really great resource and people are posting their events. You can also find our events, we like to do things like this with Salvatore, so check out the DoorGrow Club.

The other thing we didn't mention but with Snapchat, you repurpose some of that content, right?

Salvatore: That's correct. We do repurpose some of that content. We're doing our tips and advice sections. Definitely there's a feature on Snapchat which allows you to download the entire day's story so that you can save that, edit it, and repurpose and syndicate that however you feel necessary. We do that as well.

Jason: So you can push it out on Facebook, push it out to all your other channels.

Salvatore: You can push it out to all the other channels. I would warn you though, that Snapchat and Facebook, they don't play so well together. I think it has to do with potentially [inaudible [00:27:50] by the other and the videos [inaudible [00:27:52] as well, but you can put it out there. We have done it, it's just not as crystal clear as you would like. But we definitely repurpose on Instagram, and of course we're tweeting it out as well.

Jason: Perfect, love it. Salvatore, again, thanks so much for coming on.

Salvatore: Thank you so much, Jason. Have a great day!

Jason: Speaking of social media, if you want to connect with me, I love connecting with people. I think that's really what life's all about, its connection. That's what we're really craving through social media. Connect with me! I am KingJasonHull on pretty much any social platform that is out there, so check me out and let's connect. Thanks.

You just listened to the DoorGrow Show. I love the feeling of contributing, I'm sure you do too. Support the DoorGrow Show by leaving us a real review in iTunes. It not only helps us, but helps others. Thank you.

Be sure to join the discussion and community with our other DoorGrow Hackers like yourself inside doorgrowclub.com. Find any show notes or links from today's episode on our blog at doorgrow.com, the best place to get a property management website and marketing. To get notified of future episodes, live shows, and events, go to doorgrow.com/subscribe.

Until next time. Be sure to take what you learned and start DoorGrow Hacking your business and your life.