You Are One Step Away From Transforming Your PM Business
We win when our clients win... Scroll down to see Case Studies:
Case Study: Sterling Davis
How he went from being stuck at 60 for 4 years to exploding his growth to 400
20 Doors in first 30 Days
He just went and did what we told him & was blown away!
300 in first 6 Months
Hear how Sterling's life has changed from trying to get by at $2000/mo to 10x'ing his business.
UPDATE: 400 Doors in 1 Year
Sterling hit 400 in a year! He recently posted he's let go of some larger properties he didn't like & is even more profitable.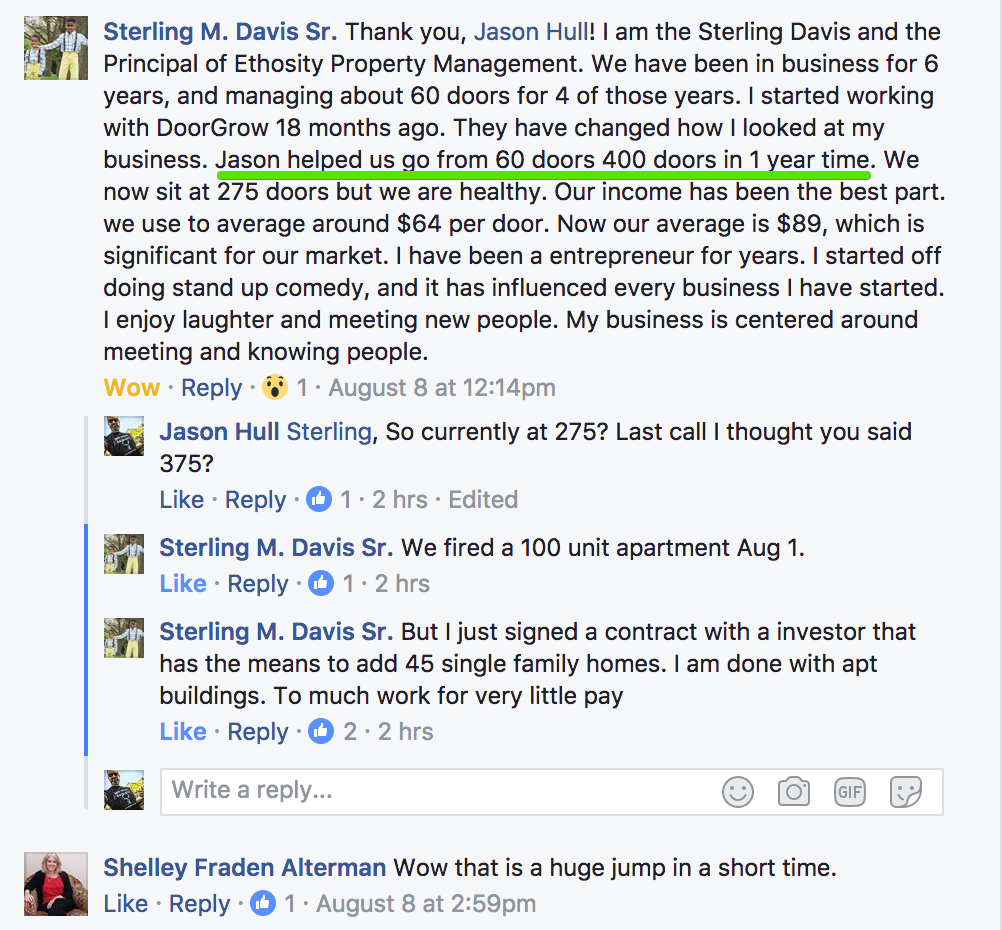 19 Single Family Doors in 1 Month, 30 by End of Month 2
Jon had phenomenal growth going from maybe just 3 doors/month to adding 30 doors in his first 60 days.
Doubled His Revenue Over Previous Year - from $20k to Nearly $50k/month
Jon is doing more money monthly than he ever has during his 20-year business in all his companies.
Jon Westrom is KILLING it with online reviews and says his per door income is rockin'. 🎸 Another WIN for one of our #Seedhackers!
38 41 Properties 1st Month + $15,000 Commission!
Dan is now a believer in our process! Spending Zero on Marketing.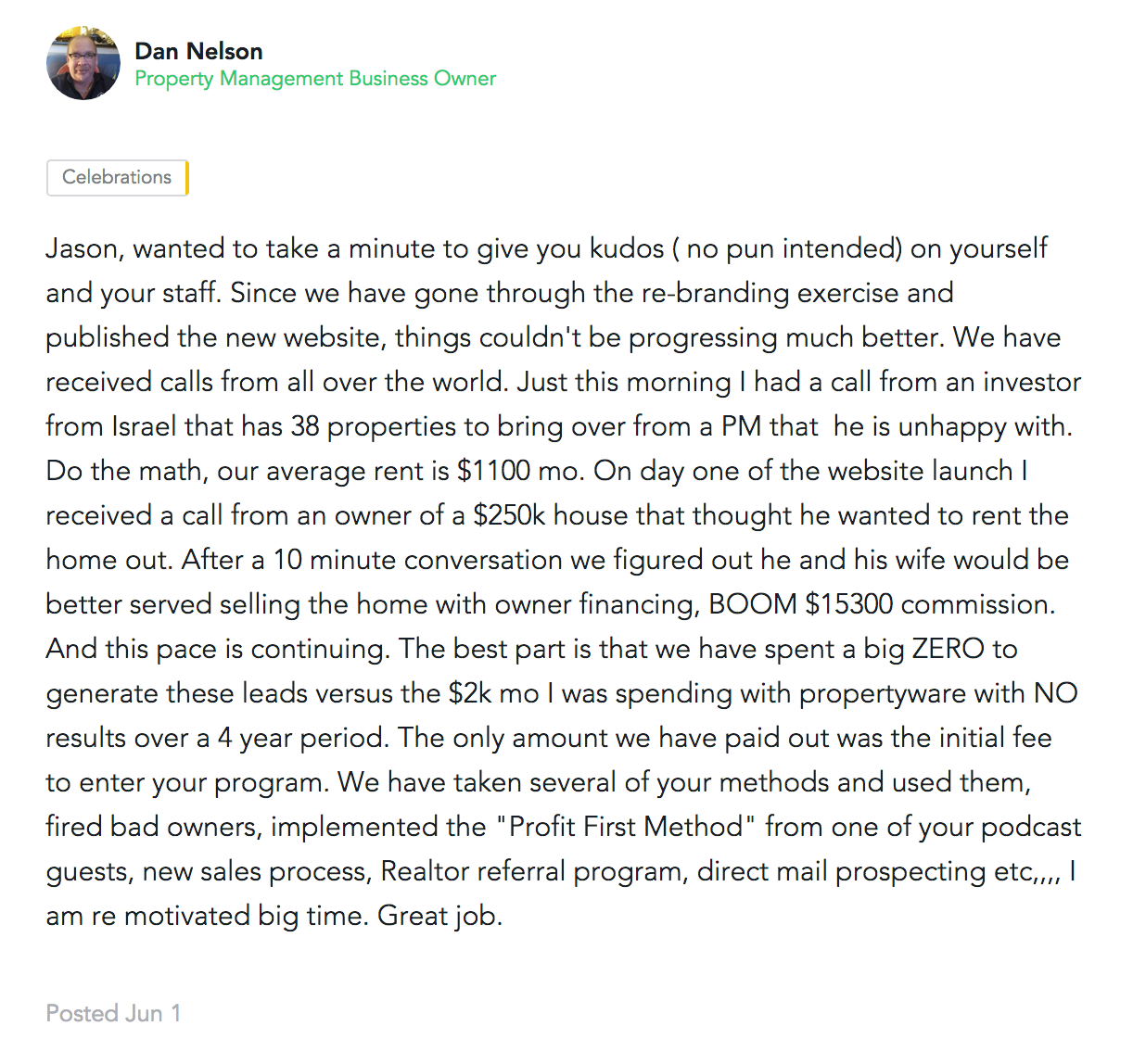 Massive ROI: Half a Million in Profit ($540,000)
Dan's gratitude post to the #DoorGrowClub...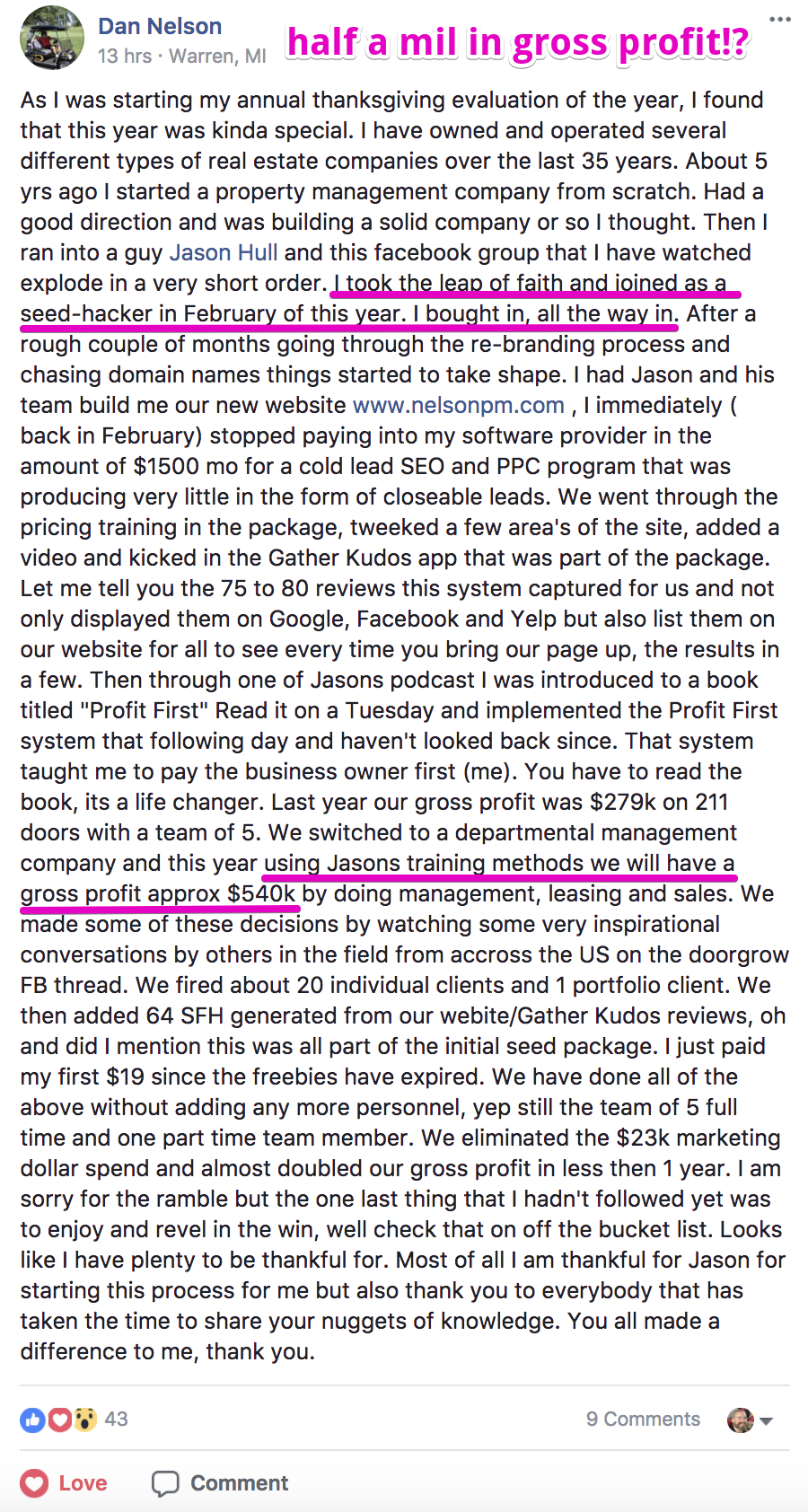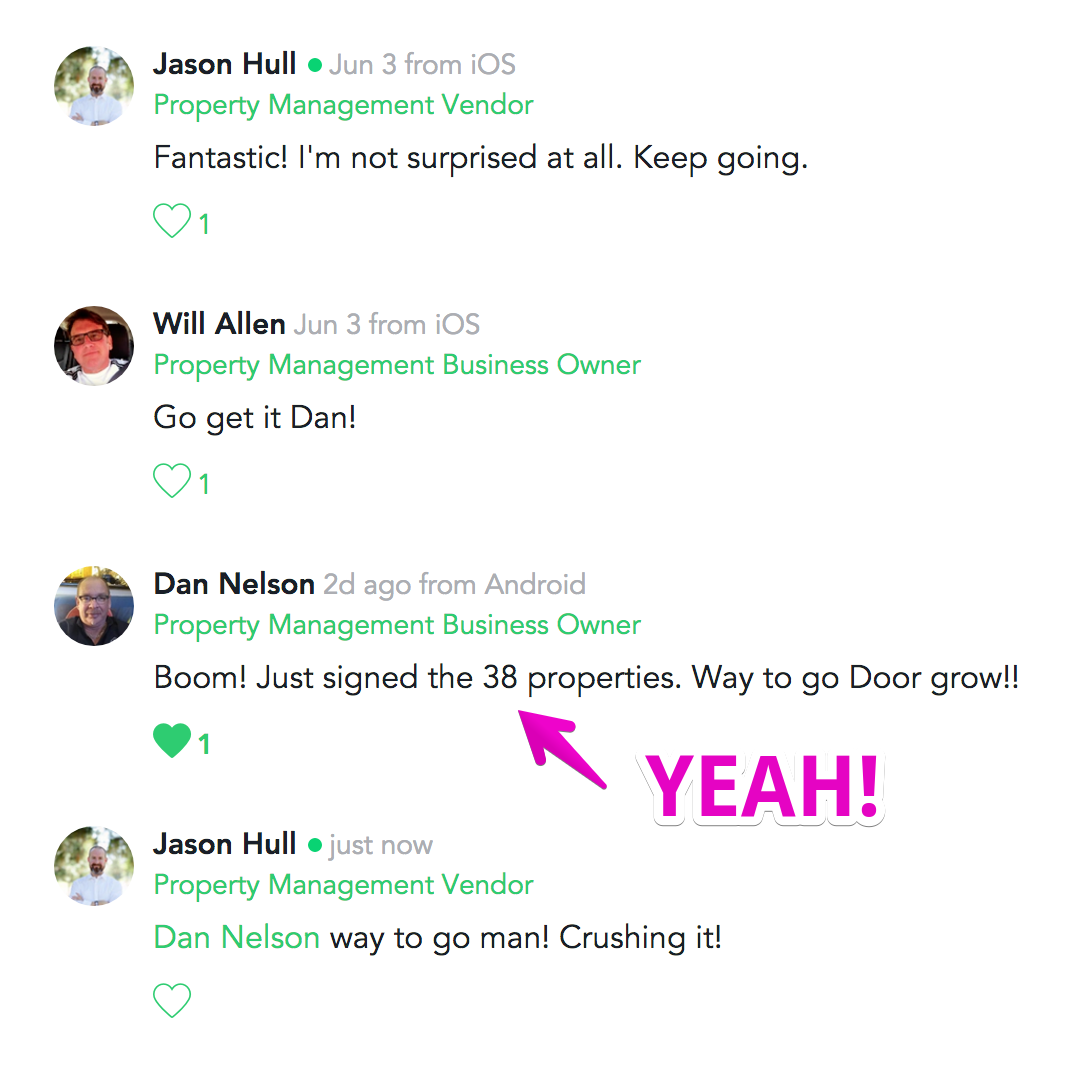 Quadrupled her income in 6-7 Months!
Amy shares her experience of the seed package! Listen how she started in a new market knowing no one & how we helped her with a solid foundation so she quickly exceeded her own expectations getting to 50 doors!
Easily a 6 figure return on his investment
You can read below Josh's unsolicited feedback on our Seed Package.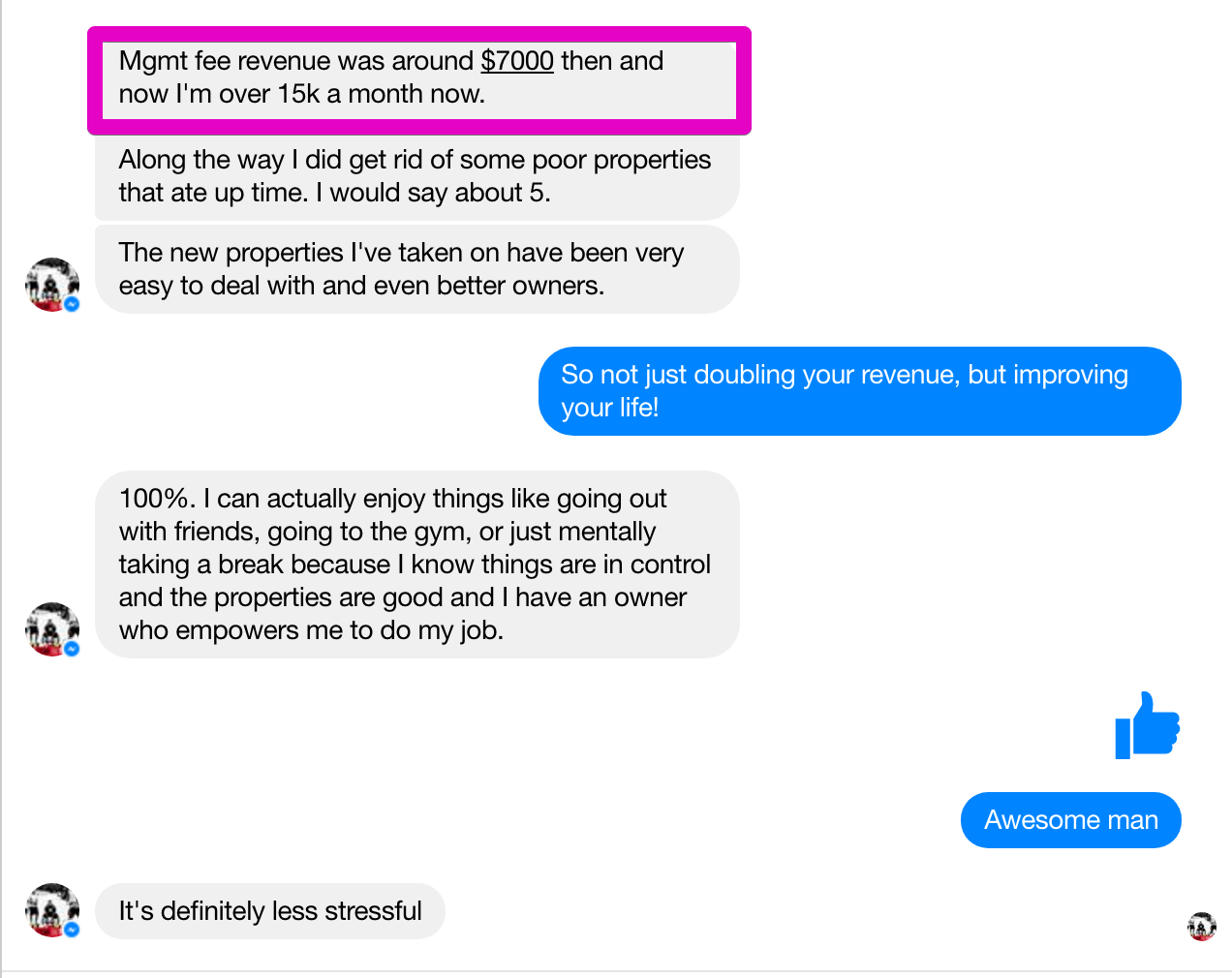 Case Study: Preston Brown
From 600 Doors Making $0 to Thriving With Half the Doors
Listen to how Preston took the property management business from being neglected and struggling to thriving. He changed his branding, fired a bunch of bad doors, and reduced his staff, and is now profitable.
Case Study: Peter McKenzie
Congrats to #SeedHacker Peter McKenzie who purchased our Seed Package & COMPLETELY TRANSFORMED his business! So great to hear the wins... man it feels good to help clients get into momentum... Enjoy this video where he shares some cool ideas as to what he did... That's a lot of wins relayed in just 3 minutes!
WATCH: How we gave one client at Tenant Science the tools to SUCCESS. Congrats Marc Glaser on the changes that transformed his business and grew his door count to 66 doors! 🎇
Marc Glaser has DOUBLED his doors since becoming a #SeedHacker and his commercial business is booming! He has:
From treading water to surfing the property management waves, Peter Nelson is another one of our happy #Seedhackers.
Case Study: David Boswell
Can change and doing things out of the box pay off? David Boswell from Ambassador Property Management thinks so.
💛When clients COME to you💛 Is there a better phrase as a property management entrepreneur?
Case Study: Raymond Riley Jr.
"I always wanted to do property management - but I didn't know how and where to start." 😕 Those were the words of our #SeedHacker Raymond Riley Jr. who went from 50 to 72 doors in just ONE MONTH! He moved at twice the speed we normally see and has a true entrepreneur spirit. 💚
Are you MISSING OUT on opportunity because of old branding? We helped our #SeedHacker Tony Cline re-brand a 40-year-old company and the effects were INCREDIBLE. His staff loved it: "Like they had a shot of caffeine to the bloodstream!" 💉☕ Tony even had people reach out and want to partner with him. Our #SeedHackers aren't afraid of change - as technology and trends evolve, so should business names.
Case Study: Will Allen & Robin Reed
Meet Will Allen + Robin Reed - husband & wife #SeedHackers! 👫 They built their company 15 years ago and things have changed a lot since then! DoorGrow helped them modernize their approach and they have TRIPLED THEIR INCOME! How amazing is that? Thanks Will and Robin for giving DoorGrow a 10/10!
Learn what systems and processes to put in place to be able to handle rapid growth in your property management business!
Case Study: Add Andrew Sommers
"We couldn't have done it without you!" Comments like these are music to our ears. 🎵👏 One of our Elite #SeedHackers, Andrew Ian Sommers of StoneHarbor PM, spent a few weeks working with us and transformed his business. Best of luck Andrew!
Case Study: Regis Beattie
Learn what systems and processes to put in place to be able to handle rapid growth in your property management business!
Tony Cline Got More Than He Expected From Us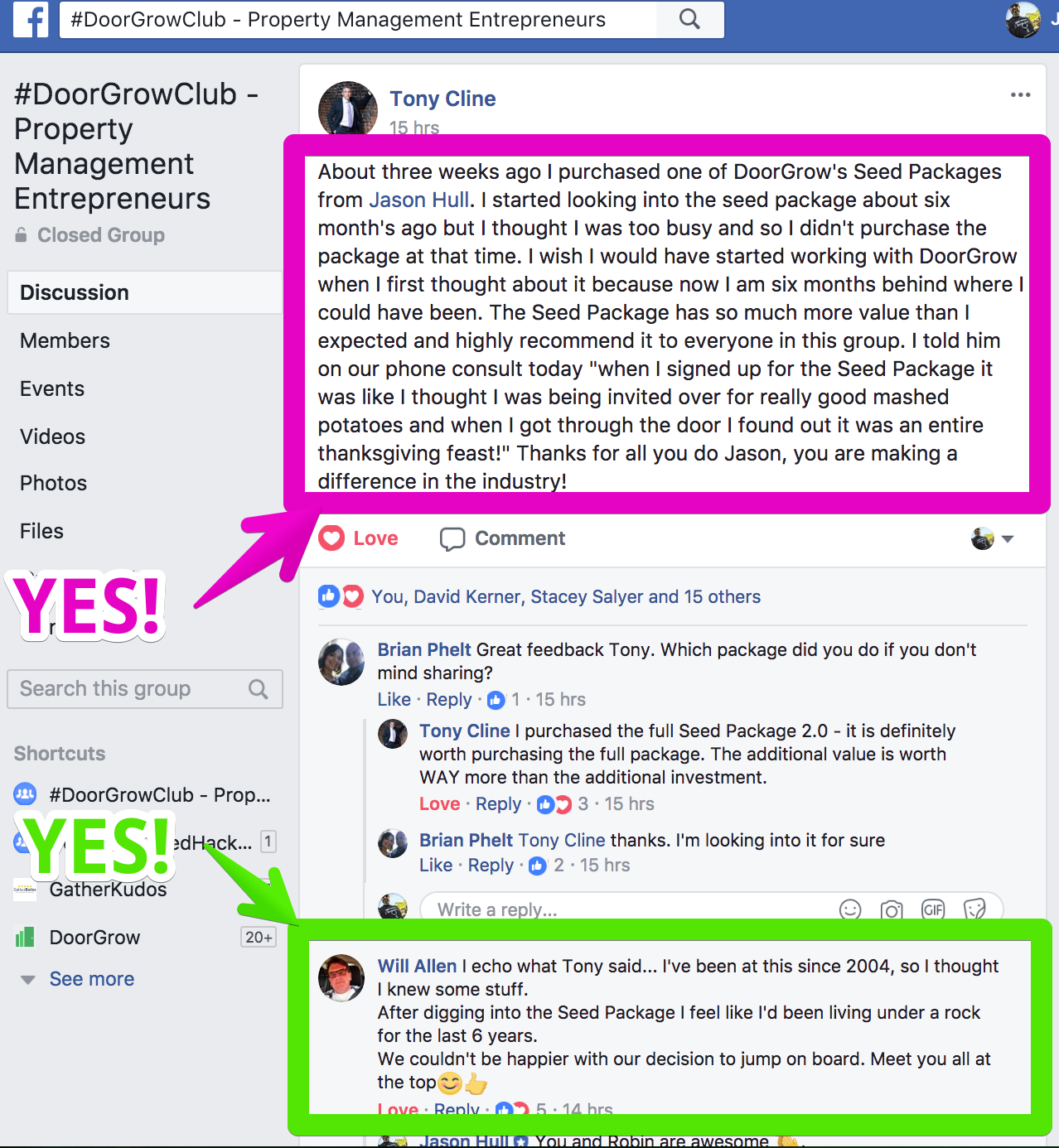 Will Allen Is Adding Doors Prior To Launch!
Ryan Goyer is Crushing it With Reviews & Finally Getting Good Leads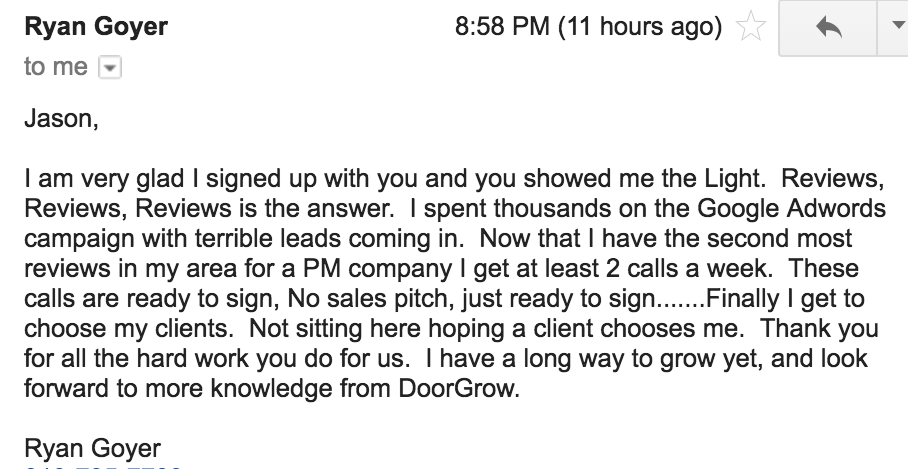 Brad Went From 40 to 200 Doors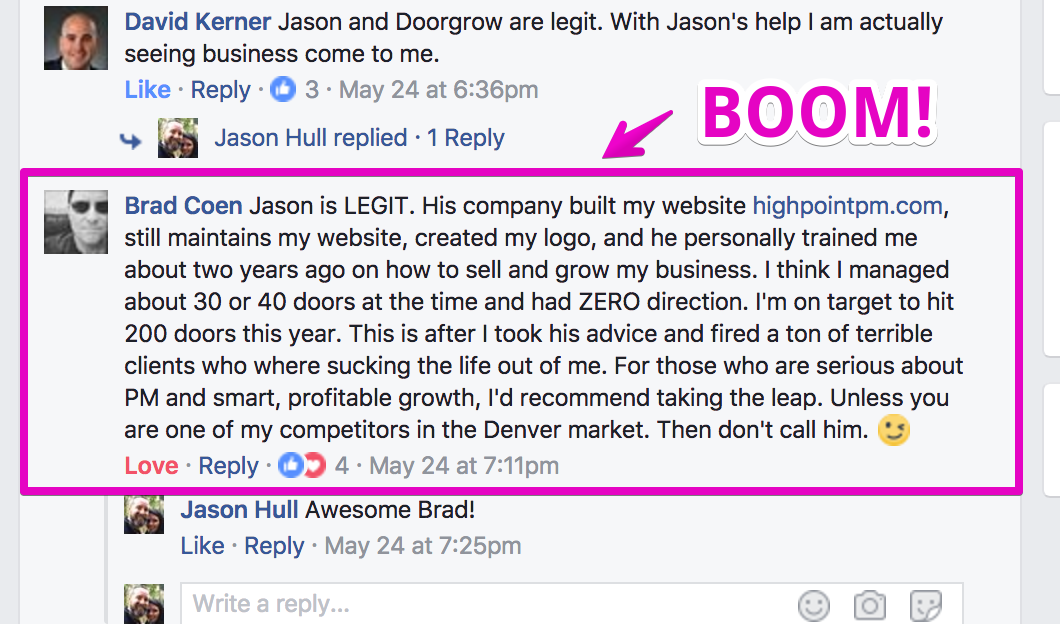 Peter Nelson Doubled His Close Rate!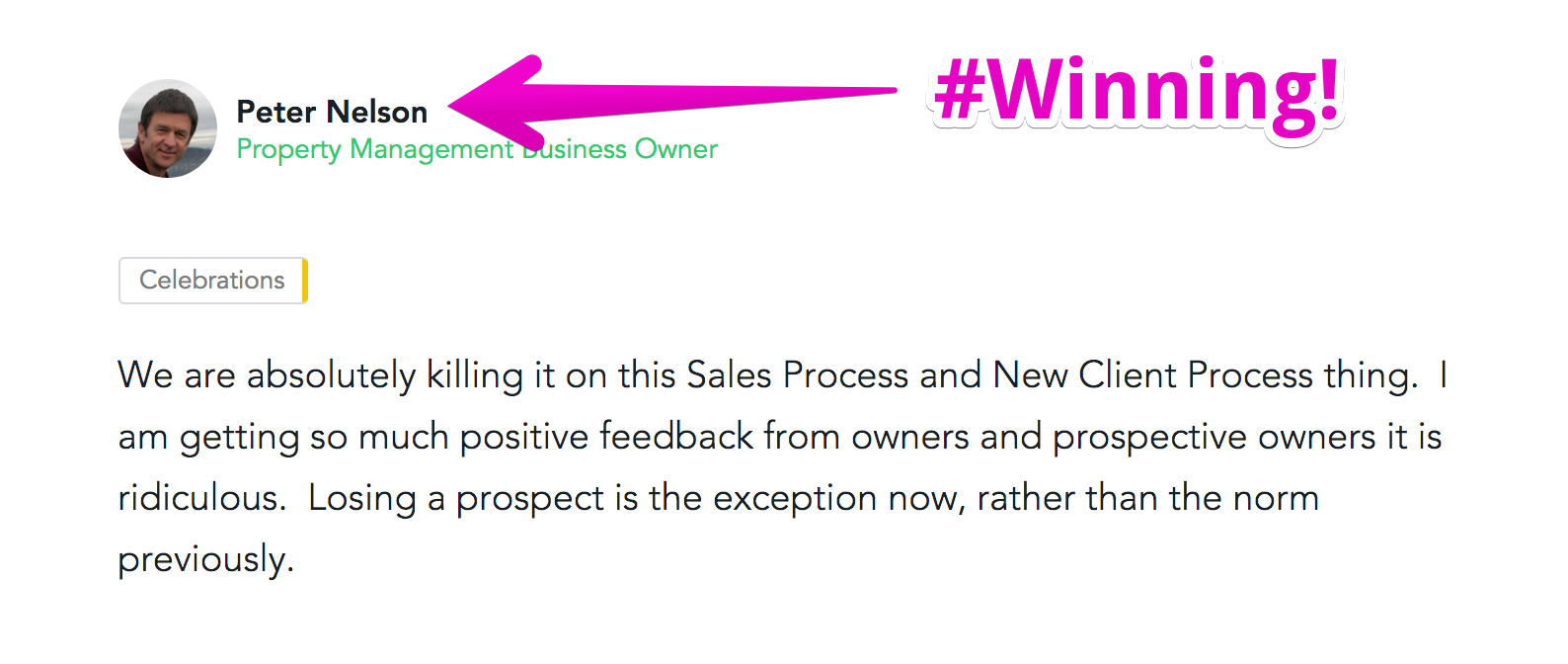 We Have Good Reviews Everywhere
Ready to Learn About Our Process?
Get Free Access to #DoorGrowSecrets