More often than not property managers are stuck in a terrible cycle I call the "cycle of suck", which could also easily be called "PM Hell". They struggle to get good properties, deal with too many tenant issues, have clients that are difficult to work with, and have a low review rating or poor reputation online. Sound familiar at all? Then you will love this simple idea…
The Cycle of Suck
This is property management hell. If you are living, breathing, and working in property management hell every day, your life will suck… Well… it will suck more than it should. The cycle that is all-to-common, is this…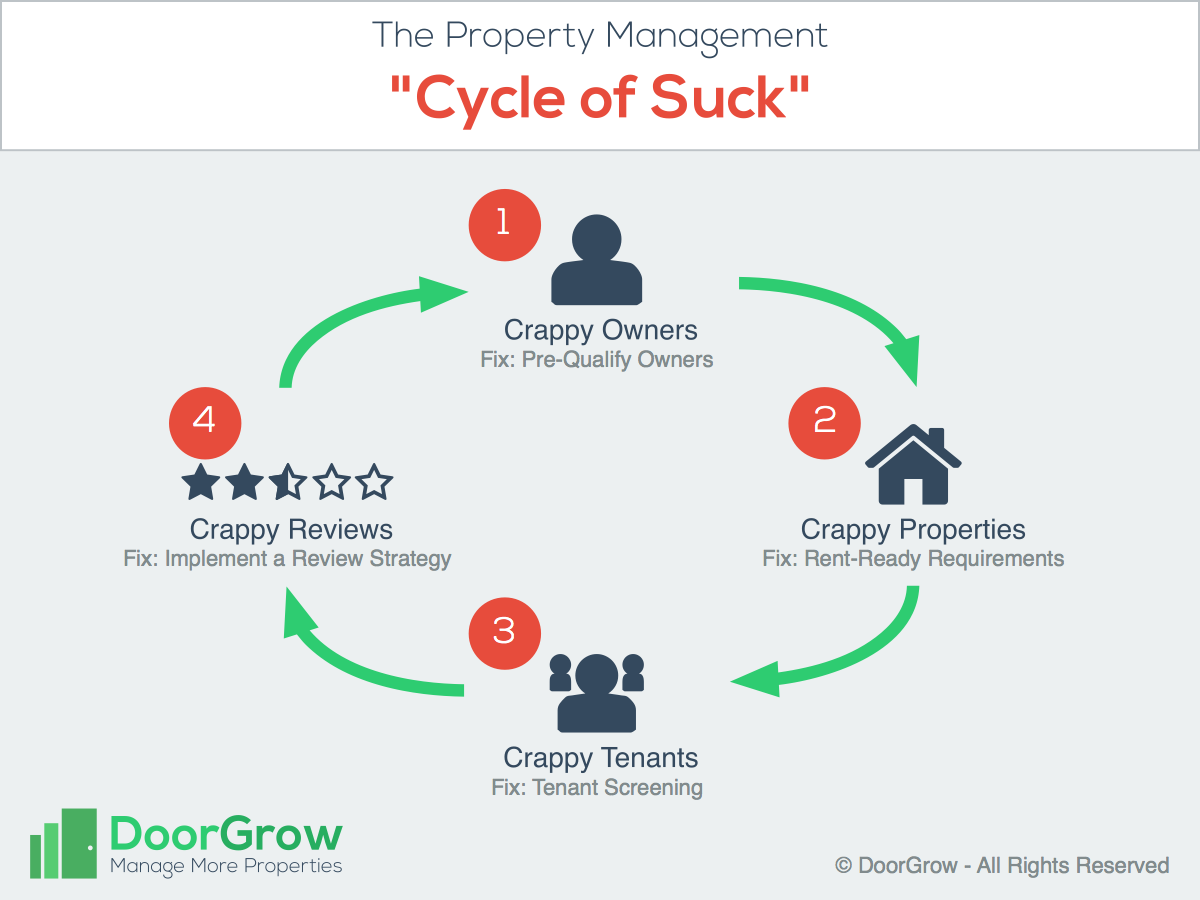 1. You Take On a Crappy Client
It is very tempting, whenever you get a lead, to do whatever it takes to get their business on. Don't be desperate to take any client on.
2. You Get a Crappy Property
These might be properties in bad areas, or just properties owned by clients that refuse to spend money on improvements.
3. You Get Crappy Tenants
Every property manager tries to screen tenants to the best of their ability, but the real way to attract better tenants is to have better properties, in better areas. The way to keep good tenants and keep them happy is to place them in good properties that are owned by good owners that are willing to meet your (and the tenant's) level of expectation.
4. You Get Crappy Reviews
If you don't have good owners, good properties, & good tenants, then you won't have a good reputation. Even if you do amazing screening and then place good tenants in a bad property, that is just a recipe for disaster.
Why Escape?
The cycle of suck is costly.
It costs lots of time and resources. 1 bad property can take 10 times the amount of work & effort and cost you more overhead than one awesome property.
The cycle of suck is stressful.
Do you really get excited to wake up in the morning and hop in front of angry tenants as a shit-shield for a bunch of slum lords, & dealing with lowlife's and jerks all day long? Do you think your employees do? No… So work will suck and you will only retain employees that can't find something better, so they will likely suck too.
The cycle of suck is competitive.
If you have a poor reputation online, then you will have to compete with all the other sucky property management companies, because the good ones are taking all the best clients and you are stuck at the bottom of the barrel, competing on price.
How To Escape
So how do you avoid getting trapped in this cycle? You need a solution to each stage in the cycle.
1. Qualify Clients
Be selective of the types of clients you are willing to take on. This is the major takeaway, but there is so much more that property managers need to do to improve their sales process.
2. Qualify Properties
Have a set of criteria and expectations that must be met before taking a property on. Make sure owners/clients understand your requirements & expectations.
3. Qualify Tenants
You are likely already doing this step. This will be much easier though, now that you are being a bit choosier of the properties and owners that you take on.
4. Implement a Review Strategy
If you don't have a strategy for getting more positive reviews, and eliminating negative reviews, then you will only usually get negative reviews. Why? Because happy customers aren't nearly as motivated as upset reviewers. Check out GatherKudos.com as a quick fix to this issue.
Moving Forward
So imagine… once you are free from the "Cycle of Suck"… how much more would you love your job – working with great clients, good properties, and wonderful tenants? Unless you hate humans… then you might want to get into another business. Property management can be an enjoyable business, dealing with great clients & easy tenants, and managing great properties. I know it is not as easy as it sounds, but we have several tips, ideas, and tools we consult property managers on to improve each stage. If you are frustrated… or not enjoying your property management business, then give us a call and we'll help you to transform your business.
4 Ways We Can Help You Get More Clients, More Freedom & More Money
1. Get the 95-minute DoorGrow CODE™ Training
In how to grow your PM business and then make it scaleable. In 95 minutes, I'll show you why most marketing is wasting your money, how to eliminate your advertising expense entirely, and grow faster than your competitors.
Just reply with the word "CODE" in the subject line & we will send it to you.
2. Join our In-Person, 2-Day, Gamechanger Workshop & Take Big Action
This event is designed to be different than conferences in that we are bringing in expert coaches and you will be taking immediate action to review financials, improve profits, assess your team, systematize realtor referrals, find and initiate your first acquisition deal, and more. This will catapult your business toward success
3. Join our next DoorGrow Boardroom
4x a year, we run a 2-day intensive in Austin, TX, with a small group of savvy PM business owners. We deep dive into each business. You will gain insights into your business, get clarity, and walk away with a solid strategic plan.
4. Get a Scale Roadmap Session
If you ever want to get some 1:1 help, we can jump on the phone for a quick call, and brainstorm how to get you more leads, increase profits, and make the business easier, less stressful, & more efficient. Book a call with us.