DGS 116: Automated Income Verification in the Property Management Industry with Stephen Arifin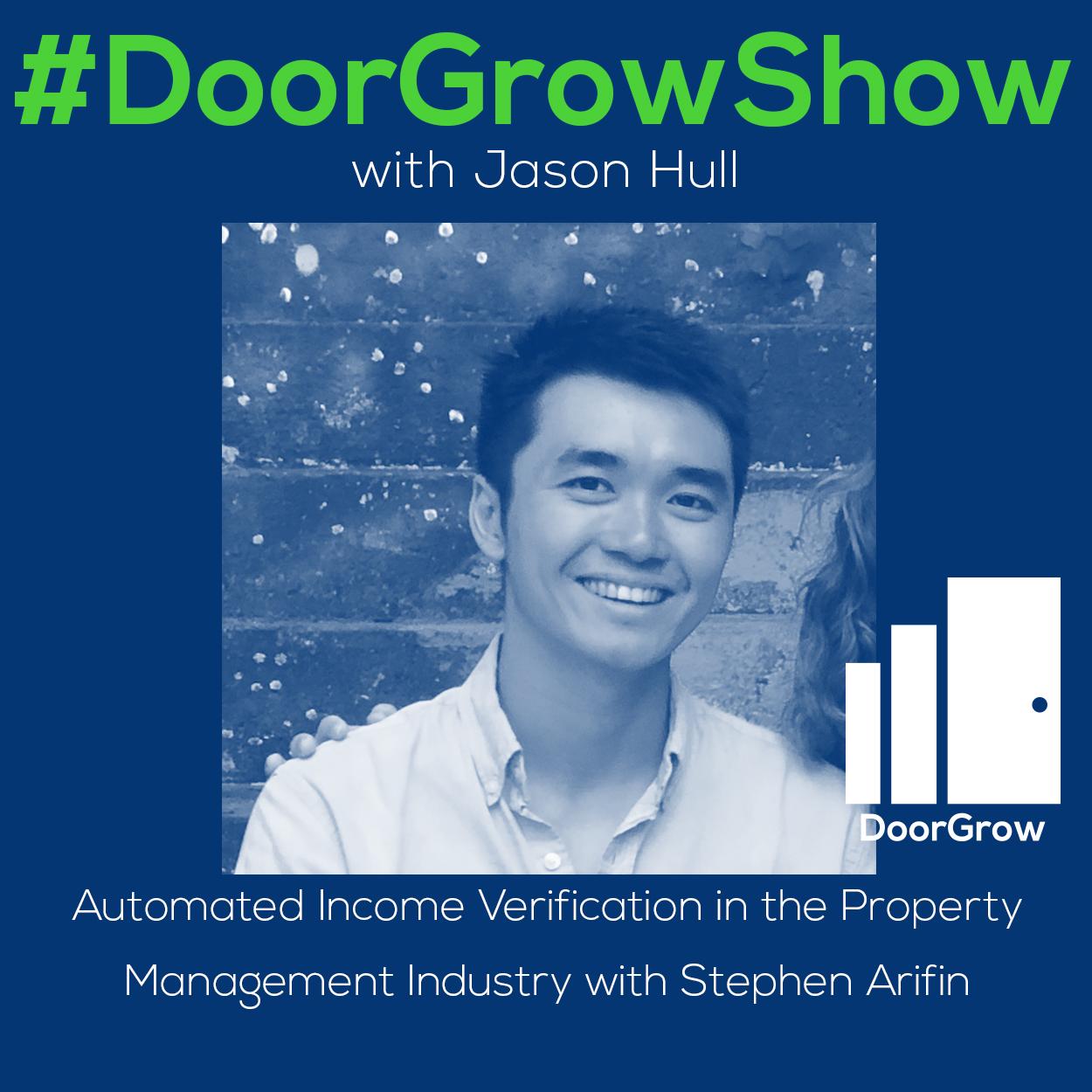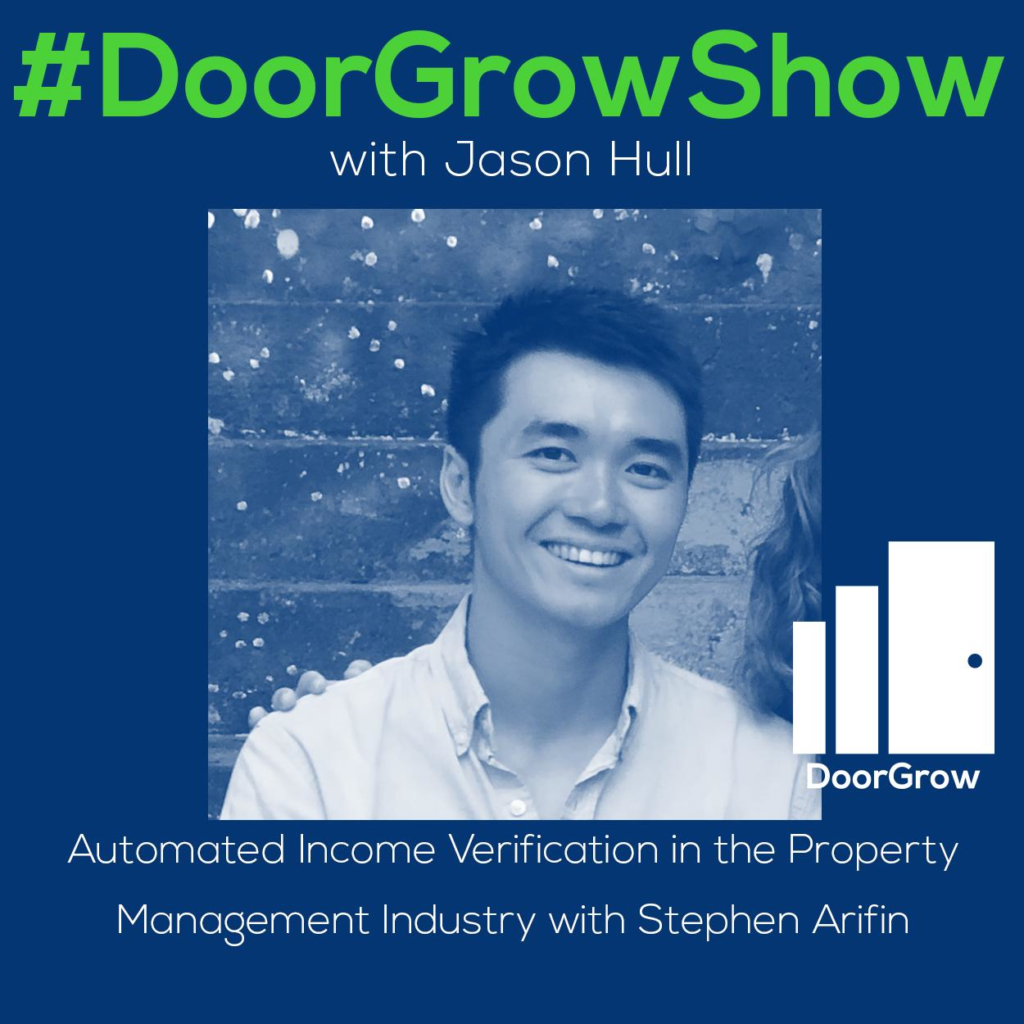 Listen to the Episode (23:05)
Join 100s of PMs & Subscribe to Updates
Do you need a place to rent? But you can't complete or submit your application because you don't have the required information and documentation for the property manager? This is a common and frustrating problem.
Today, I am talking to Stephen Arifin of The Closing Docs, which offers automated income verification in the property management industry. The Closing Docs is a modern way to help applicants prove their net income, which is the best indicator of their ability to pay rent. The Closing Docs provides property managers with income information needed to make a decision that can be defended.
You'll Learn…
[01:48] Early Entrepreneurship Experience: Stephen started solving problems using technology to make money from the time he was in kindergarten through college.
[02:50] First Job Out of School: Full-stack Web developer at Microsoft, where a small team taught Stephen the fundamentals of how to build a Web application from scratch.
[03:08] Missing Entrepreneurial Spirit: Stephen leaves Microsoft to pursue broken industries in need of technological innovation to save time and money.
[03:31] Mortgage Lenders: The Closing Docs was founded to fill in the gaps of loan application processes by automating income verification.
[05:21] How it Works: The Closing Docs receives permission from applicant to prove their net income, the money that goes into their account to pay their rent.
[07:00] The Closing Docs has developed integrations with property management software, including Buildium, AppFolio, On-Site, and Yardi.
[12:18] Why switch to The Closing Docs and not follow the status quo? Information collected directly from banks is better and trustworthy for an approval recommendation.
[13:38] Operational Cost Savings: People and software are expensive, so what can property managers/applicants expect to pay for The Closing Docs? $10 per screening.
Tweetables
Resources
Automated Income Verification Process: How It Works
The Fair Credit Reporting Act (FCRA)
DoorGrow Cold Leads Calculator
Transcript
Jason: Welcome, DoorGrow Hackers, to the DoorGrow Show. If you are a property management entrepreneur that wants to add doors, make a difference, increase revenue, help others, impact lives, and you are interested in growing your business and life, and you are open to doing things a bit differently, then you are a DoorGrow Hacker.
DoorGrow Hackers love the opportunities, daily variety, unique challenges, and freedom that property management brings. Many in real estate think you're crazy for doing it, you think they're crazy for not, because you realize that property management is the ultimate high-trust gateway to real estate deals, relationships, and residual income.
At DoorGrow, we are on a mission to transform property management businesses and their owners. We want to expand the industry, transform it, eliminate the BS, build awareness, change the perception of it, expand the market, and help the best property managers win. I'm your host, property management growth expert, Jason Hull, the founder and CEO of DoorGrow. Now, let's get into the show.
I am hanging out with a special guest today. My guest is Stephen Arifin. He is with a company called The Closing Docs. Stephen, how are you today?
Stephen: Good, Jason. How are you?
Jason: I'm doing fantastic. Thanks for being here on the show. Stephen, before we get started, give us a little bit of background on you. Tell us a little bit about you, your entrepreneurial journey, your adventures here, and what led you to The Closing Docs.
Stephen: Sure. First thing, I'm a tech guy. I've always been around technology and computers growing up. My dad was a programmer and started his own banking software company. I was always around entrepreneurship and technology.
Even at a young age, I would always try to solve problems with technology. For example, in kindergarten, all my classmates were really upset when the school installed the website blocker that prevented them from playing their online games. I created my own website and hosted all of my classmates favorite games so that they can play at school. Of course, I took the nominal donation, and made a little cash.
I studied software engineering in college. I love building apps. I was in a fraternity and we were having some major issues collecting and organizing our finances. A buddy and I built a better invoicing system, launched the company into our fraternity, and help streamline their finances. That was probably my first real entrepreneurship experience.
My first job out of school was at Microsoft, where I worked as a full stack web developer. It was a small team and taught me a solid fundamentals of how to build a web application from scratch. I consider myself really lucky to be in a team with so many talented engineers, but at Microsoft, I really missed my entrepreneurial drive.
While I was working there, I've began investigating broker industries. I started with industries that has many paper and pencil process, and were ripe for technological innovation. An obvious contender was the mortgage industry. I started finding gaps where technology can save time and money.
After talking to a few dozen lenders, it was clear there was a breakdown in the […] application process. Typically, their proof of income. Why were they taking screenshots of paystubs in W-2? In 2017 and even today, why are loan officers forced to review these data sources in so many different formats? It's cumbersome, it's time-consuming. It invites human error and judgment. Honestly, it's just downright painful. There had to be a better way.
Thus, The Closing Docs is born to provide automated income verification. I started in the lending industry. I really tried to help verify their applicant's income. But my lack of industry knowledge made it really difficult to sell. After speaking with folks in the real estate industry, I learned about similar problems in the property management space—a far less regulated industry and one that is even more disaggregated than the lending universe. At this time, it made sense for me to combine forces with someone familiar with the startup landscape, someone familiar with starting and operating businesses, and all their direct industry knowledge.
The Closing Docs other founder and my partner, Mark Fiebig, had started a handful of companies, successfully raised venture capital, and also happened to have deep real estate industry knowledge including owning a property management company himself. Together, along with my technical knowledge, we combined our assets and knowledge, and created what The Closing Docs is today.
Jason: Cool. Explain what is The Closing Docs today.
Stephen: We provide automated income verification. Essentially, a modern way to help applicants prove their net income. Here's how it works. With the applicants permission, we can obtain a years worth of deposit history directly from their banks, and share a report that illustrates an applicant's net income. Why are we reporting net income? It is the best indicator of an applicant's ability to pay rent going forward. The money going into the applicant bank account is the money that will be used to pay rent.
Our message to property managers is clear. We'll provide the info you need to make the decision you can defend instantly. So often, applicant provides incomplete information. Whatever info they do share, it comes from so many different formats from so many different sources. At the closing docs, we streamline the process significantly. Based on our client's usage data, we are seeing time spent from applicant screening fall by as much as 30%. That means that three hours screening timeline turns into two hours. We're saving our clients real money. If you do the math, that's one full-time employee for our property management firms seeing around 2000 property.
It's honestly fun for us to be on the phone with our customers and have them jumping for joy because they're super excited. We help them simplify and expedite their workloads. In essence, The Closing Docs is standardized information delivered right into your inbox or pushed directly into your property management software through our integration. We help people close more deals faster.
Jason: All right. That sounded very pitchy but it sounds cool. Tell me which software does your software integrate with, that some of my listeners might be familiar with? A lot of them are using AppFolio, they're using Propertyware, they're using Rent Manager, they're using Buildium, some of these tools as a back office.
Stephen: We've developed a number of integrations with Buildium, AppFolio, OnSite, Yardi. Those are many of the popular property management software systems out there. We're continuing to grow that list. We don't ask or expect our clients to change their software or stop using what they love or what they're used to.
We know that property managers pay multiple logins and switching between apps, so we made it as easy as possible for them to use our income screening. If they want, we also create an online rental application as well.
Jason: So, they're going through this process of using your application (probably) instead of maybe what's built into their software. This is helping to gather all the documentation or documents (The Closing Docs) that they might need in order to verify their net income. What happens next in this process? How easy is it for them to use the software and figure out whether somebody is a viable candidate for this particular property?
Stephen: There's two different entry points that property managers can use in our tools. One, if they are a firm with around 100 doors (usually), they can use our standalone web service. Essentially, they type in the applicant's email and it sends the applicant an email to our site. The applicant authorizes their banks and they authorize us to pull all the information needed to aggregate metrics like net income—yearly net income, monthly net income.
We also count non-recurring deposits like bonuses, W-2 tax returns. Once that information comes in, the applicant gets the chance to review the information so that we remain FDR-compliant and they know the information that's being shared with their property manager, then they click a button. What we do is we print an income report. We deliver that directly to the property manager's email. That's the first way we do it.
The second way is for bigger property management firms around 1000 doors, we actually integrate our income verification directly into our online rental application. We have an online rental app and it has different controls. All the information that the property management firm requires, we can require it to the applicant so they don't skip it, and the income verification is built into the rental app.
When the rental app is submitted, the property manager receives the rental application along with our income report. It's all in one combined package. That helps the back-and-forth issue that property managers so often get into, where the applicant doesn't submit all the necessary information and they have to go hound the applicant to, "Hey, can you submit this paystub? It's from two years ago." We save a lot of property managers time that way.
Jason: I imagine, even one piece of back-and-forth is costing probably, sometimes even a day. Sometimes, 10, 15, or 20 minutes minimum. If there's pieces that are over and over again that are missing, they're working a one application, this adds up. You have 5 properties that are vacant that you are working on right now, 10 properties vacant that you are working on right now. Your staff are going to be really busy. It feels like it's such an essential, critical thing that just has to be done to move these things forward to get things rented, but what you're saying is a lot of it can be automated.
Stephen: Right. When you're trying to get more information about the applicant, that unit is in a limbo state. It's not really on the market. It's not really off the market. We're trying to prevent stuff like that.
Jason: And the renter gets frustrated. Everyone's been in a situation where you have a key providing more information. They keep asking for more information. It just starts to get frustrating. I'm sure there's instances where they just decide to move on to something that's easier.
Stephen: Right. One of the sites that want to […] from starting this company, the property manager loves us, but their customers, their applicants, actually love us as well. They get approved faster, it's super easy, and they save a bunch of time. Really, everybody wins.
Jason: Ultimately, that's why every business exist. It's to create some win-win, maybe win. You're solving a problem. You're shortening the […] the time. What are some of the other benefits why should property managers pay attention to this instead of just doing what they've been doing and following the status quo?
Stephen: We receive our information directly from the banks. We support about 15,000 banks which is about 99.9% of all of the banks in the United States. We get trustworthy data. We get better data. Since the information is digitized, we're also able to produce and approve a recommendation. We use 2.5 times the net income to rent ratio. If the applicant makes 2.5 times more, then the units rank and we give them a thumbs up. If they don't, we give them a thumbs down.
Property managers can make a decision really easily. Their applicants qualified. If it doesn't qualify, we'll give all the details of the transaction history and deposit history. They can drill down and see a little bit more detail where applicants […].
Jason: All right. So, they'll be able to have a little bit of information is to why they maybe didn't qualify, that sort of thing. I think another issue here that were a benefit to any piece of technology is that there's going to be an operational cost savings. If you have a staff member that's manually doing this, they're doing phone calls, they're texting, they're emailing saying, "Hey, we need this piece," they're trying to get stuff out of an email. They're trying to store documents in a certain way. They're asking people to send things, "Send me a picture of this," they will go into your bank, download these bank statements, and send them to us.
The challenge is, you're going to be paying somebody to spend the time to do this, somebody on your team. People are expensive. You're spending (for a decent team member) probably $15–$30 an hour. If you have hundreds of properties that you're dealing with, vacant properties, you're going to be spending hours and hours of money towards something that could easily be handled by technology.
Help those listening understand, if you will, maybe a little bit about the cost of the software. Just get them a ballpark or help them understand if this is something even feasible for them to be doing in their business.
Stephen: Our pricing is super simple, $10 per screening. There's no implementation cost. There's no sign-up cost. There's no minimum fees. It's just $10 per screening. The time that you save, especially when we have clients with a lot of doors and there's just a lot of applicants, especially during busy seasons like the summer season, applicants are just piling in by the truckload, each minute count. Each mental step that you actually even skip, it all adds up. It's really great. We have a lot of clients saying, "Man, we love your software."
Jason: This $10 application fee, they're probably passing on to the renters, I would imagine.
Stephen: We support both the property manager or the applicant. We have clients that do both workloads. It's a business that's usually up to your […].
Jason: Okay. They can do it either way. They can build it in as a part of their application process. Most property managers are going to have some other steps besides just income verification as part of their application process that they need to take into anyway. This would be one piece of that puzzle. This would be the income verification portion. Just to make screening even more solid.
I would imagine that the financial aspect is probably one of the number one indicators as to whether they're going to be able to afford it and pay for it. They're going to be looking at things like credit. They're going to be looking at other things. Bottomline, if they don't have the funds available, it's okay. They're likelihood of making rent every month is going to be pretty slim.
What are some of the frequently asked questions that some of the people may ask when they're looking at your software? When they're looking at your solution? What are some of the most common questions that property managers would probably be curious to hear about here on the DoorGrow Show?
Stephen: Something with our income screening is that it requires the applicant's permission and the applicant's involvement. It's not like a hard inquiry on credit where you can just type in a social security number then they automatically pull credit without the applicant's involvement. We need the applicant to authorize their banks. That's how we remain FDR-compliant. Our data showed actually that we have around a 97% quiet rate which is honestly awesome. We do have some applicants in the older generation that is a little unfamiliar with technology. They get a little worried when authorizing the banks.
We're FDR-compliant, we have the same security protocols of banks, and we never see any of the sensitive credentials. But sometimes, applicants worry about that. Whenever we incorporate our income verification in an online rental app, we give the option to go the route that we've all come and known by uploading bank statements and pay stubs. We give that option. But like I said, 97% of the applicant go for the more streamlined option because it just saves so much time.
Jason: Okay. So, if they get a conspiracy theorist grandpa, that's been living in a basement, he's freaking out, wearing his tinfoil hat, he's worried about giving his password through your software tool, he can still do things the old school way if the property manager's willing to tolerate it.
Stephen: Right. If you think about it, they're still uploading all the sensitive information. They're uploading their […].
Jason: It's less secure. Let's be honest.
Stephen: It's a perception.
Jason: Yeah. If they're sending these stuff through email, that's even more ridiculous. Some emails open and passes through multiple servers. We understand that as nerds. That's okay. We need to help out our less technological brothers and sisters out there.
Stephen, it's exciting to hear about your tool. I hope people will check it out. How can people get in touch with you or with The Closing Docs and learn more?
Stephen: Our website, theclosingdocs.com, has got a lot of great information. It also has a contact form. You can get in contact with our team. You can also email me at stephen@theclosingdocs.com. If you sign up at theclosingdocs.com on our site, you'll get three free screenings to try out our tool.
We're pretty confident that you'll be hooked by the first screening. It'll give you a chance to try out this new workflow. In the end, it is a new workflow. As a business, you need to adjust your business processes to accommodate for new tools that you incorporate in your business.
Jason: All right, cool. Somebody was asking a question. They're asking, "How do you integrate with AppFolio since they don't have an API?"
Stephen: We use a Chrome extension, a browser extension. That allows people to create screenings directly from their browser no matter what website you're in. They're still using AppFolio, they're still using the tools that they love, but they can access our income screenings through our Chrome extension or a browser extension.
Jason: It's a clever solution to that. If anybody has any other questions, reach out to stephen@theclosingdocs.com. I appreciate you coming on the DoorGrow Show.
Stephen: Thanks, Jason. Thanks for inviting me on the show.
Jason: Yeah, you bet. Those of you that are watching, check out theclosingdocs.com. If you are watching us for the first time or maybe it's the 50th time, be sure to like and subscribe. Check us out on YouTube or leave us a comment on Facebook. I want to see people that are involved and see who's interested in the show. I love seeing that feedback. If you're on iTunes, do me a huge favor and leave us a review. I would appreciate it. We'd love some real feedback.
Be sure to test out your website. You can do that at doorgrow.com/quiz. If you're doing any cold lead marketing, advertising, go to doorgrow.com/coldleads. Go through that calculator. I want to give you a gift and show you some leaks in your business that you may not be seeing right now. I would love to help you out, so reach out to us at DoorGrow. Until next time. To our mutual growth. Bye, everybody.
You just listened to the DoorGrow Show. We are building a community of the savviest property management entrepreneurs on the planet, in the DoorGrow Club. Join your fellow DoorGrow Hackers at doorgrowclub.com.
Listen, everyone is doing the same stuff. SEO, PPC, pay-per-lead, content, social, direct mail, and they still struggle to grow. At DoorGrow, we solve your biggest challenge getting deals and growing your business. Find out more at doorgrow.com.
Find any show notes or links from today's episode on our blog at doorgrow.com. To get notified of future events and news, subscribe to our newsletter at doorgrow.com/subscribe. Until next time, take what you learn and start DoorGrow hacking your business and your life.