DGS 107: Automating and Screening Rental Leads with Cliff Hayden of Show Me The Rental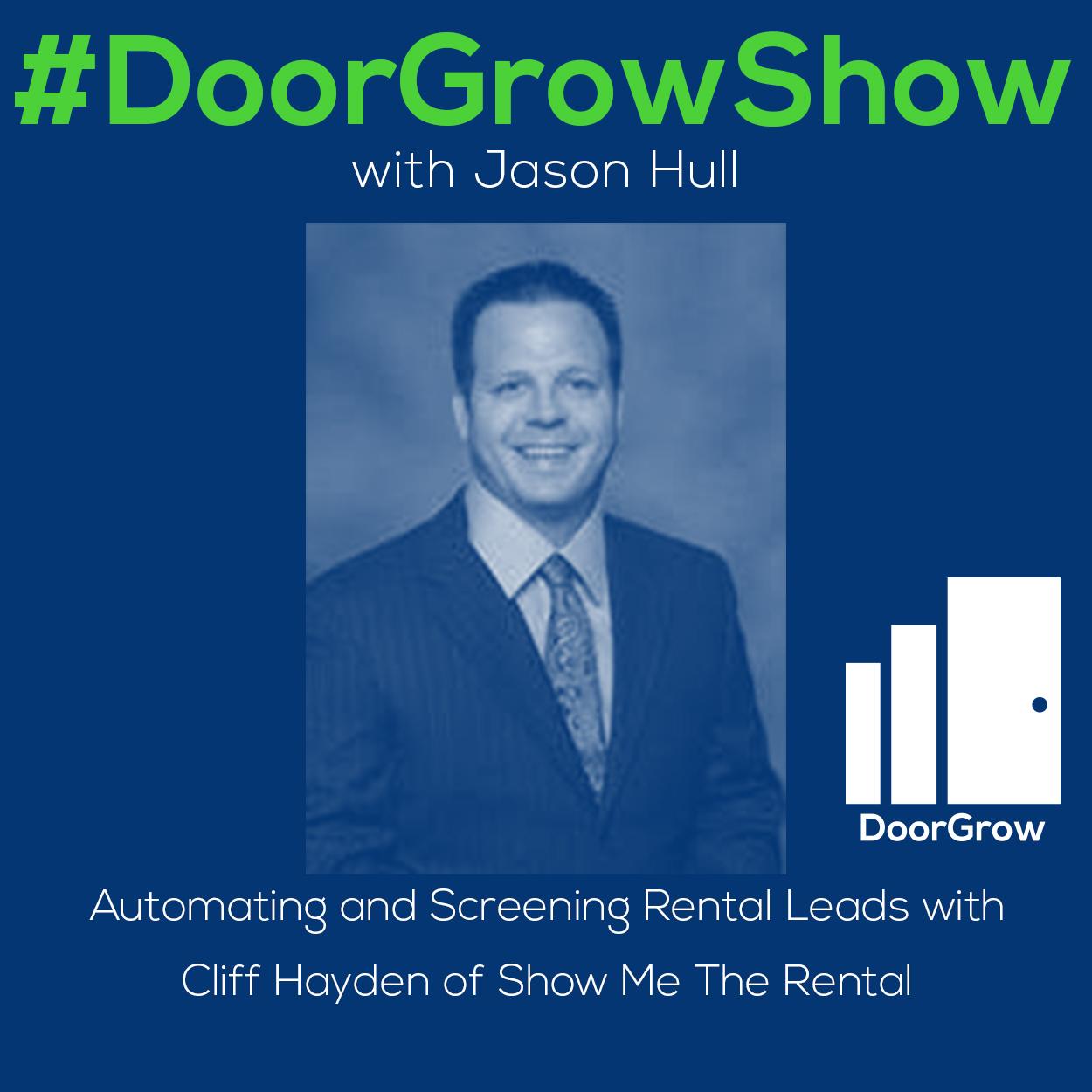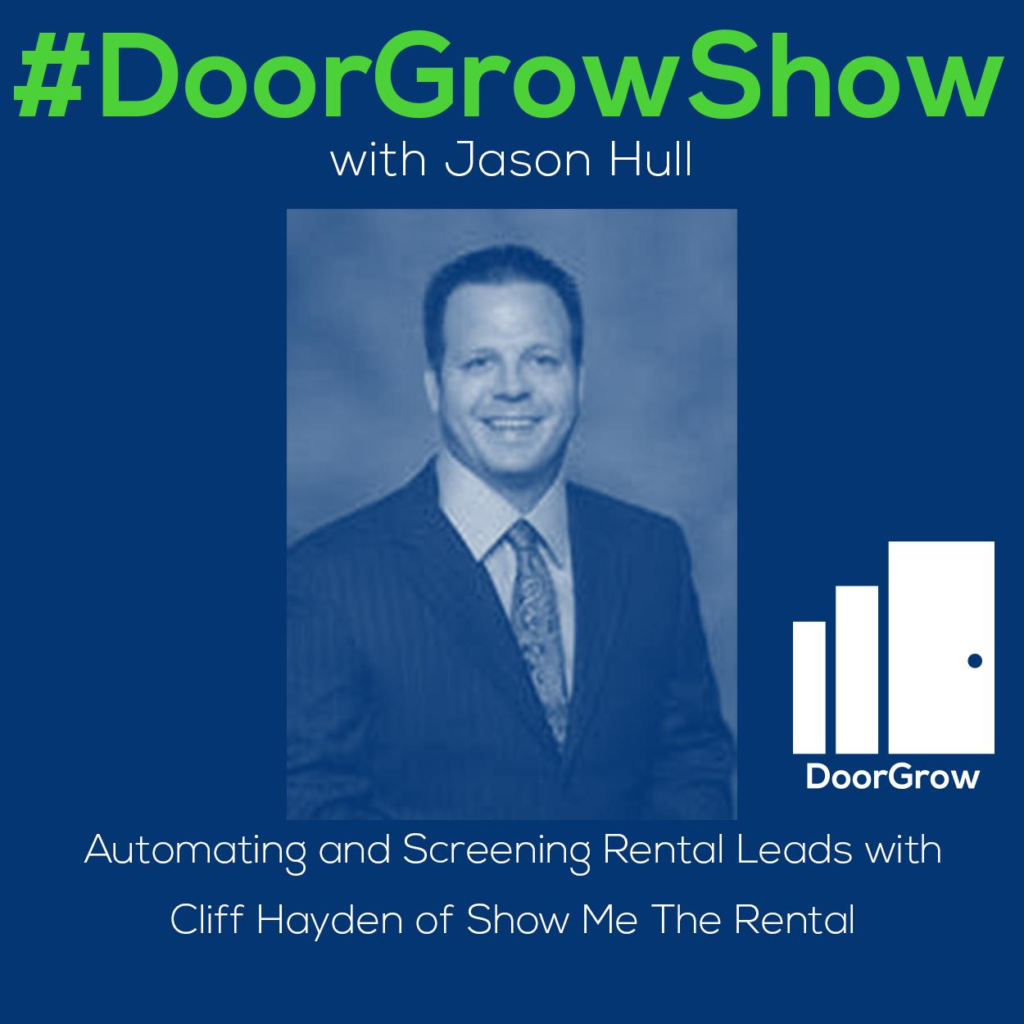 Listen to the Episode (22:47)
Join 100s of PMs & Subscribe to Updates
Is pre-screening tenant leads the most time-consuming part of your business? What you need is an online system that advertises, generates and pre-screens leads, automates showings, and turns leads into applications at a reasonable price.
Today, I am talking to Cliff Hayden of ShowMeTheRental, a time-saving tool for automating and screening rental leads. ShowMeTheRental handles the B.S. part of management between prospective tenants and property managers/owners.
You'll Learn…
[03:05] From Lineman to Realtor: Longest suspension in AT&T history to do real estate.
[04:00] Poor Priorities: Money was goal. Financial success wrecked family/homelife.
[05:15] ShowMeTheRental: System put in place to automate lead screening for tenants.
[06:12] Fulfilling Family Priorities: Money is a tool, now; not a goal.
[07:25] Happy vs. Frustrated Customers: Set expectations of what you expect from them and what they expect from you via questions that filter qualified leads.
[11:25] Where is ShowMeTheRental advertised? All major Websites, including Zillow, Facebook Marketplace, and HotPads.
[15:18] See something you like? Try ShowMeTheRental today to save time and money.
Tweetables
[bctt tweet="Working all the time costs you family and friends." via="no"]
[bctt tweet="Money is a tool, not the goal." via="no"]
[bctt tweet="You can buy time, but you can't get your time back. " via="no"]
Resources
Cliff Hayden's Phone: 502-641-8781
Rich Dad, Poor Dad by Robert Kiyosaki
Kentuckiana Real Estate Investors Association (KREIA)
Transcript
Jason: Welcome, DoorGrow hackers to the DoorGrow Show. If you are a property management entrepreneur that wants to add doors and expand your rent roll, and you are interested in growing your business and life, and you are open to doing things a bit differently, then you are a DoorGrow hacker.
At DoorGrow, we are on a mission to grow property management businesses and their owners. We want to transform the industry, eliminate the BS, build awareness, expand the market, and help the best property managers win. So, if you enjoy this episode, do me a favor. Open up iTunes, find the DoorGrowShow, subscribe, and then give us a real review. Thank you for helping us with that vision. I'm your host, property management growth hacker, Jason Hull, the founder of OpenPotion, GatherKudos, ThunderLocal, and of course DoorGrow. Now, let's get into the show.
My guest today is, Cliff Hayden. Cliff is from a tool called… what's your tool called, Cliff?
Cliff: showmetherental.com
Jason: ShowMeTheRental. All right Cliff, let's get into your background. Tell us a little bit about how you got into this so people get familiar with you a little bit.
Cliff: I got into ShowMeTheRental to save my marriage, actually, and my family life. I worked at AT&T, my real job, when I first started this business. I was an outside plant technician, which is a fancy word for a line man. […] bucket trucks and put up telephone lines everywhere.
I always wanted something more, so,I got into real estate. You've heard of Robert Kiyosaki? Rich Dad, Poor Dad. My brother-in-law was in, and my sister came back from Iraq. They brought home a game called CASHFLOW. I can remember sitting at the dining room table playing CASHFLOW. I didn't understand that you can buy assets and buy rental houses, and people will pay you and you can make money off of it. That's how green I was when I first started. I knew absolutely nothing.
From playing that game, I actually signed up for a mentorship through Robert Kiyosaki. They helped me buy my first duplex. End up being a horrible deal, it was bad, but it all worked out because in that whole process of getting a loan on it and learning what I was doing, I found our local real estate club called Cria.
I started going to local meetings and I met a mentor, a guy named Mike Butler. He took me under his wing, showed me the road to real estate, and made sure I didn't fall on my face. He was a big part of my success. From there, I worked a full time job and started buying rentals on the side. Long story short, I just started making enough money to quit my job.
Now, cool story that I like to tell is, I do hold the longest suspension in AT&T history. I come from a lower middle class family. I didn't want to quit my job and do real estate full-time. It was a very high paying job for us and a very good job for my family. I just didn't want to up and quit, so got suspended on purpose.
As a lineman, you have to have a CDL license, and they random drug test you. They did pop me a random drug test. I decided I wouldn't take it, which is an automatic fail. Then they suspended me. I took that suspension and turned it into four-and-a-half months.
In the meantime, in the first month of my suspension, I made my whole salary at AT&T doing real estate full-time. I kind of drag it out and then I decided to quit my job and do real estate full-time, which was awesome, because I was my own boss. I had a lot of fun in the beginning, but my priorities were all mixed up. When I first started, my priority was money was the goal. The problems that I had was all I focused on was money, buying houses, and doing everything I could to get money because I thought that was going to make me happy.
What it did is, I became financially successful, but my home life was a wreck. I'm happily married with five children. I would work all day, come home, and continue to work. I couldn't turn it off and it's causing a lot of problems at home. The biggest problems at home is, when I would come home and eat dinner, I would get text messages, phone calls, emails, because at any given time we would have three or four empty rental houses.
All these leads would start coming in and my wife would just get, I call it superman vision. She had that look on me where she could shoot lasers out of her eyes. She would. It caused a lot of friction at home and a lot of problems. I decided there's got to be a system I could start putting in place to make this more fun, to make this job smoother, and to get my life back, because I was just working all the time. I didn't see my family, I didn't see my friends, I didn't have anymore friends because I was doing nothing but working all the time.
I went out and started putting systems together. One of the systems I wanted was lead screening for tenants because it was our biggest headache. When we get empty houses in our town, nothing to get a hundred phone calls and emails a day. There's no possible way to keep up with those without a system in place. When I tried to find a system, I couldn't find anything I like or anything with a good price point that I like. That's where we created ShowMeTheRental.
What we did with ShowMeTheRental is we took all the problems we were having, created a system for it, and then automated it. What ShowMeTheRental does is, it's an online system that advertises, generates leads, prescreens those leads, automates the showings, and turns those leads into applications. We do all these automatically, with a few clicks of a button, and at a price point that I think is incredible. For $49, you can put it in our system and it's on there until it's rented.
That's how I got into real estate. Over the last six or seven years, I started changing my priorities to live a more abundant life. Now, money is a tool and not the goal. That's the biggest change I've had over the last several years. Now, I don't miss any field trips. We switched our whole business around and put systems in place so I can be mobile.
That's our new goal now. With the technology that's out there now, and the systems in place, if you just take the time to do it, it's not very hard to do. Now, with all our kids, we travel every summer. This year we went to Colorado for a month, then stopped to St. Louis from Branson, Missouri, and we just get back from Pigeon Forge. We have systems in place now to run our company, so we can be mobile and I can do what's important, which is making sure my kids are good, happy, and productive citizens. That's my quick story.
Jason: Tell us more about ShowMeTheRental. It sounds like a lot of your clients are individual investors. A lot of investors can use this. They can put in their one property when they need to make sure it gets rented. It deals with all these tenant leads, help systemize the process so they're not overwhelmed in it, and filters out some of the riff-raff and time wasting.
Cliff: Correct.
Jason: Maybe you could explain the process of once somebody gets into your system, they sign up. Take us through what's going to happen.
Cliff: I'll tell you our situation. Our situation was, when we would have leads coming in, we would always find ourselves asking the same questions over and over, which were, "Are you on Section 8? Will you sign a three-year lease? How much money is in your bank account? How long have you been on your job?" Simple questions we wanted answered to qualify, to go see our houses, or to rent our houses.
What we did is, we generated a list of around 40 questions that we use and that we think other property managers like you all would use to kind of this thing about big funnel. Take a big funnel people and just get them down to that. Take that 100 or 200, get it down to that 15 or 20 really qualified leads that get access to view your house, so you're not wasting your time.
More importantly, what we learned is tenants get pretty upset going to look at houses they're not qualified to go see. They fall in love with the house, only to find out they don't qualify income-wise. "You don't take Section 8. They don't want to sign a three-year lease." We set it up for them also, so they'll have a system where they know that if they don't lie on their question and tell the truth, they'll have a great opportunity to get this house. It could be theirs. We mesh that together so everybody can be happy.
Jason: So really, it reverses the issue. A lot of times, what happens is tenants apply for a bunch of properties, renters will apply for a bunch of properties, and hope that they'll get one. They aren't taking a look at the income requirements. None of these things were filtered when you're looking at Zillow rentals or wherever they're looking to find a property. They're just going, "Oh, I like this one. This looks great." They're not really aware of what they would qualify for. They're getting frustrated. They're wasting a lot of time. Really, it doesn't take a whole lot for somebody to get frustrated. You see, you go look at a couple of properties that you like, and find out you don't qualify. You'll start to get pretty upset and annoyed, I'm sure as a renter. It would be really challenging.
Cliff: Yes, and there are customers. I call them customers. Just like any business, you want your customers to be happy. You don't want to start them off on the wrong foot. I want to set the expectations upfront about our policies and procedures, so we go into what we expect from them and what they expect from us. It just streamed on that system so much better than what we did before. This way, we're not wasting our time and we're collecting all their information. We can go into that. It's hard to go over on a podcast, but we can.
For guests who want to check out showmetherental.com, it shows you we collect all the lead information and we actually have a cross-reference database, that if they don't qualify for my property but you're in our system, they qualify for your property, Jason, it will send them over to you. We have a system where, when properties pop in our system that they qualify for, it will automatically send it to them. I know based on their profile they filled out and the prescreening questions they answered, that they're qualified to go see that house.
I think that's important and the tenants really like it, because you said it best, it's just such a headache to go to 20 houses and know you're only qualified to rent two of them. I think a lot of people miss that because I think we need to take care of our customers because they're our business. If we don't take care of them, we don't really have a business. If we can get those good customers in there, spread that word of mouth, and get them to know about us, it makes our lives a lot easier.
Jason: What are some of the common questions that a homeowner, or an investor, or maybe even a property manager usually ask you about ShowMeTheRental?
Cliff: I don't know the common questions. The biggest one we get is what websites do we advertise on? We do all the major websites. Zillow, which is always number one, Facebook Marketplace, we just syndicated with Zumper, Trulia, HotPads, Rent Leads, all the major websites. We advertise on every major website.
How this system works is, when you put in on the website through our system, it goes into our system. Instead of them contacting you, they're going to contact our system. They can contact us via phone, via email, and via phone number. Each specific city has their own phone number and how will they contact us. Usually, 90% is through email.
When they go in Zillow and to your property, when they look at it, they'll inquire about it and then we will send them, through ShowMeTheRental, a link to your prescreening questions. From there, they'll answer those questions and if they answer those questions correctly, we will then send them showing instructions based on your preference.
We have five different ways to show the property. Once they looked at the property, we will send them a link for an online application. We provide one, but we recommend if you have your own, you can just put your own application link in our system and it will send them to your application. We use a software company called Buildium. I want everything in Buildium, so I'll have all the stuff already entered. From there, we have our screening service. We screen, we don't offer the service we have in our in-house. We then screen the tenant, get all the information we need from them, and we take it from there.
Jason: Okay. You're not just helping prescreening, but you're also fielding the phone calls. You really are this barrier between the prospective tenants and the homeowner property manager.
Cliff: To me, we're the BS part. We help fix the problem, the BS part of management which is prescreening and leads. I think that is the most cumbersome, time consuming part of our business.
Jason: Yeah. It's a huge time waste.
Cliff: Yes, A huge time waste.
Jason: It just cost a business money. It doesn't make an investor or property manager money. In general, it's the garbage of phone calls. "How many square feet are on this property that I'm looking at right now?" where it says the square feet on the property. You know, these kind of calls. You guys will handle the phone calls?
Cliff: The system does, correct.
Jason: Or emails, or all that kind of stuff?
Cliff: Everything, yes. It's all automated.
Jason: Okay, cool. You do it on a per property basis. What bout a property manager that has a lot of properties, or an investor that has a lot of properties?
Cliff: What do you consider a lot? To me, a lot is a couple of hundred. If you have multiple properties, we'll work out discount prices for you. I guess there's no grey area. There is no setup fee, but if you have multiple properties on there, multiple times we'll work out deals with you. Most of the time it's people like me, who have 30 something properties. We have pretty nice properties. We sold off all our pain in the ass houses. We might have, out of those properties, every year we have two, maybe three turnovers.
I like it. This is more built towards smaller amount of pop we do. Of course, we do take on all the bigger ones, but it's more of, you got two or three rentals a year. If you do have multiple ones, then we'll work with you on prices and make sure everybody is happy. My big goal is to get people their time back. I know it changed my life when I started living life more and stopped worrying about all the money all the time and just started being home and being present with my family, with my kids, and being more involved. That's our big goal, is just to help. You can't get your time back. That's what I tell everybody.
Jason: Right. You can buy time thought.
Cliff: You can.
Jason: The residents experience going through this, what's their experience?
Cliff: What they'll do when they log on to the site, their view is a map of whatever city they're in, it will show different properties. What we try to do, when we market, when they go in, they got to sign up with their phone number, email, and name. Then, we're going to try to get them a profile filled out before they even go into a house. We're going to get a profile filled out of all the questions we have and then we're going to match it up the properties. If they don't go that route and say, they find it on Zillow like I said earlier, then from there, they'll just get on Zillow, find a house, inquire about, and they'll answer the prescreening questions from there. If they qualify, they get to see the house. If they don't, it just tells them they're not qualified to go see the house.
Jason: Got it. So just kind of kills it there.
Cliff: It kills it there so you don't have to talk to them. You seem like a nice guy like I am. I don't know how many times you've been on the phone and you have to tell them, talk to them for 15 or 20 minutes and they go on for 15 or 20 minutes, and you don't want to hang up because you want to be nice. It's just a headache. It takes care of that headache. Managers had that conversation, I know all of them have. All those conversations are gone, which is a big blessing.
Jason: One phone call is probably 10-15 minutes, because you have a nice intro on the call, you have to be cordial, they're going to have some questions, you want to answer those questions, and then you need to figure out how to end and get off this call in a nice fashion. Yeah, it eats up a huge chunk of time.
Cliff: Yeah, huge chunk.
Jason: If it's a nice property, it's in a nice area, and it's priced appropriately, you're going to get a lot of these phone calls. It can be pretty cumbersome and overwhelming if you're trying to just enjoy your day, have a day job, or do something. Besides, I have this part time business of managing a property.
Cliff: Yes, correct.
Jason: This one property. If you have multiple, it becomes even more crazy real quickly. This is something that maybe property managers could use. I mean really, it's a piecemeal service. It's like "Hey, I need it for this property, maybe not for this one." They can use it as needed, maybe something supplemental to the other stuff they have going on, like through Buildium or […].
Cliff: Correct. Definitely.
Jason: Ok cool. Cliff, is there anything else people should know about ShowMeTheRental before I let you go? If not, tell us how everybody can get in touch with you and find out more.
Cliff: The only thing I ask is just give it a try. Check it out. Hopefully, you'll like it. It's been a huge game changer for us. Like I said earlier, when I come home from work, I'm actually home now, I'm not working all the time, I'm not answering phone calls. I just say, give it a try to see if you'll like it. I think you will.
As far as contacting me, you can reach me anytime. My email is cliff@showmetherental.com and you call me if you have any questions, if I can help you. I do answer my phone only between [12:00] and [1:00], and [4:00] and [5:00]. If you call outside of that, I'll try to call you back the next day. You can reach me at (502) 641-8781.
Jason: Perfect. Cliff, I appreciate you coming on the DoorGrow Show, it's great to have you, and everybody, check out showmetherental.com
Cliff: Jason, I appreciate your help. Thank you, sir. Thanks for the opportunity.
Jason: Alright, cool. I appreciate Cliff coming on the show. If you are a property management entrepreneur that wants to grow your business, one thing you may want to take a look at, that I will mention a little bit is take a look at your website. If your website has been around for 2-3 years or longer, that's the typical lifespan of a website or a design. It maybe starting to look stale, which creates a perception about your business. Once it's get about 5 years old, it starts to get a little bit painful. It's a little bit embarrassing. It looks probably outdated.
The reality is, most of our competitors, when it comes to website design, a lot of their designs were designed 2-3 years ago. The challenge is, you're getting websites, sometimes out of the box, that's already design-wise, behind and outdated. So make sure to go and test out your website by going to doorgrow.com/quiz. You go to doorgrow.com/quiz, test your property management website, take the quiz. It will help you see how effective it is at creating leads, generating business, capturing and creating trust, and capturing and converting people that are visiting on the site. It's really all about trust, instead of just trying to manipulate Google and get to the top of Google.
I'll just point out that the reality that search volume for property management according to Google Trends—you can go to trends.google.com and put in property management, back date it, filter it for the US, back date it to 2004 to the present—is low. It's small. You can compare it to any other term and see this. It really hasn't grown since 2004. In fact, it slightly peaked in 2011, around July, the summer, when property management search volume peaks each summer, but it's been on a steady decline since 2011. There's less people searching. Not only that, but competition has gone through the roof since 2011. Competition has been increasing. Everybody's pushing everyone to do. This was the game everybody's playing. It's trying to manipulate SEO, Search Engine Marketing, Pay-per click, and Google Ads.
The reality is, search volume has been on a decline. It's going down, while competition is going up. It created this false scarcity in the industry. I'd love for you to escape that. There's no scarcity in property management, 70% are self-managing their own properties right now. There's tons of blue ocean. They have problems, they have stress, but they're not looking on Google, in general. If you can identify them, capture them, you have a website that creates and builds trust, and your sales processes optimize for trust, you are going to be the company that they work with.
We want to help you optimize trust in your business, clean up, and short all the leaks in your sales pipeline. Reach out to DoorGrow. We can help you with the website and we can help you with your sales process, your pricing strategy, all the things that affects your ability to close deals. We can help you clean all that up and make your business far more effective at capturing business and going after that blue ocean where 70% are self-managing. Check us out at doorgrow.com. So, until next time everybody to our mutual growth. Bye everybody.
You've just listened to the DoorGrow Show. We are building a community of the savviest property management entrepreneurs on the planet in the DoorGrow Club. Join your fellow DoorGrow hackers at doorgrowclub.com.
Listen, everyone is doing the same stuff. SEO, PPC, pay-per-lead, content, social, direct mail, and they still struggle to grow. At DoorGrow, we solve your biggest challenge getting deals and growing your business. Find out more at doorgrow.com.
Find any show notes or links from today's episode on our blog at doorgrow.com. To get notified of future events and news, subscribe to our newsletter at doorgrow.com/subscribe. Until next time, take what you learn and start DoorGrow hacking your business and your life.